PENGEMBANGAN MEDIA PEMBELAJARAN BERBANTUAN SPARKOL VIDEOSCRIBE PADA MATERI TRIGONOMETRI
Tri Oka Akram

Universitas Islam Negeri Raden Intan Lampung

Rizki Wahyu Yunian Putra

Universitas Islam Negeri Raden Intan Lampung

Farida Farida

Universitas Islam Negeri Raden Intan Lampung
Keywords:
Pengembangan Media Pembelajaran Matematika, Sparkol Videoscribe, Trigonometri, Development of Mathematics Learning Media, Trigonometry
Abstract
This research aims to produce effective and practical learning media. To achieve this goal, the authors establish the press using a research method of development with steps: (1) analysis, (2) design, (3) development, (4) implementation, (5) evaluation. The subject in this study is the participant Students at SMA N 1 Bandar Lampung with "data collection instruments used in the form of" polls provided to the material "experts, media experts," test and effectiveness tests. The results of this study resulted in a media-shaped Video learning product; Knowing the feasibility of the quality of the developed product "is very feasible with a" score of 3.66 based on material "expert assessment" and 3.66 by the media expert in a very decent category. Student response in Math Learning media with Sparkol video scribe in trigonometric material obtained score 3.33 in MIPA 4 and 3.36 class in MIPA 5 with very interesting criteria in small class test. In the massive class test obtained the score 3.43 in grade MIPA 4 3.41 with fascinating measures. On the effectiveness test of learning video obtained calculation results using effect size 0.54 with moderate criteria can be concluded that there is a significant increase in learning outcomes.
Penelitian ini bertujuan untuk dapat menghasilkan media pembelajaran yang efektif dan praktis. langkah-langkah yang dilakukan untuk mencapainya tujuan pembelajaran tersebut peneliti mengunggnakan metode penelitian ADDIE yaitu"(1) analysis, (2) design, (3) development, (4) implementation, (5) evaluation ."Adapun pada"penelitian ini"peserta didik SMA N 1 Bandar Lampung mejadi subjek pada penelitian, teknik"pengumpulan data yang digunakan"dengan menyebarkan instrument berupa"angket yang diberikan"pada"ahli materi, ahli media,"uji kemenarikan dan uji keefektifan. Video sebagai media pembelajaran yang dihasilkan dalam pengembangan yang dilakukan peneliti. "Mengetahui kelayakan dari kualitas produk yang dikembangkan adalah sangat layak dengan skor 3,66 berdasarkan penilaian ahli materi dan 3,66 oleh ahli media dalam katagori sangat layak. Respon peserta didik dalam media pembelajaran matematika berbantuan sparkol videoscribe pada materi Trigonometri diperoleh skor 3,33 dikelas MIPA 4 dan 3,36 dikelas MIPA 5 dengan kriteria sangat menarik pada uji kelas kecil."pada uji kelas besar diperoleh skor 3,43 dikelas MIPA 4 3,41 dengan kriteria sangat menarik. Pada uji keefektifitasan video pembelajaran"diperoleh hasil perhitungan menggunakan effect size 0,54 dengan kriteria sedang, sehingga media tersebut layak dan dapat digunakan pada saat proses pembelajaran dengan menghasilkan peningkatan keefektifan yang signifikan.
References
[1] Arsyad, A. Media Pembelajaran Jakarta: PT Raja Grafindo Persada, (2013).
[2] Erpina, M. A. Hasjimy, dan A. Salimi, Pengaruh Kooperatif Teknik Talking Stick Terhadap Hasil Pembelajaran Pendidikan Kewarganegaraan di SD, Jurnal Pendidikan Dan Pembelajaran, vol. 3 no. 9, (2014) p.13.
[3] Farida, Mengembangkan Kemampuan Pemahaman Konsep Peserta Didik Melalui Pembelajaran Berbasis VCD. Al-Jabar: Jurnal Pendidikan Matematika, vol. 6 no. 1: (2015) 25–32.
[4] Sari, A. W. "Pengembangan Media Pembelajaran Berbantuan Web Dengan Pendekatan Etnomatematika Pada Pokok Bahasan Bangun Ruang Sisi Datar", Phd Thesis, Uin Raden Intan Lampung, (2017).
[5] Setyono, Y. Adi, S. Karmin, dan D. Wahyuningsih. Pengembangan Media Pembelajaran Fisika Berupa Buletin Dalam Bentuk Buku Saku Untuk Pembelajaran Fisikakelas Viii Materi Gaya Ditinjau Dari Minat Baca Siswa. Jurnal Pendidikan Fisika, vol.1 no.1, (2013).
[6] Sunarni, S. Pengembangan Media Pembelajaran Power Point Berbasis Sparkol Pada Pokok Bahasan Perumusan Dasar Negara Pada Mata Pelajaran Pkn. Jurnal Penelitian Dan Pendidikan Ips, vol.10 no.3, (2016).
[7] Widyawati, Santi, R. Masykur, dan F. G. Putra, Pengaruh Pembelajaran Picture And Picture (Pap) Terhadap Hasil Belajar Matematika Ditinjau Dari Kecerdasan Spasial, Beta: Jurnal Tadris Matematika, vol.11 no.1, (2018).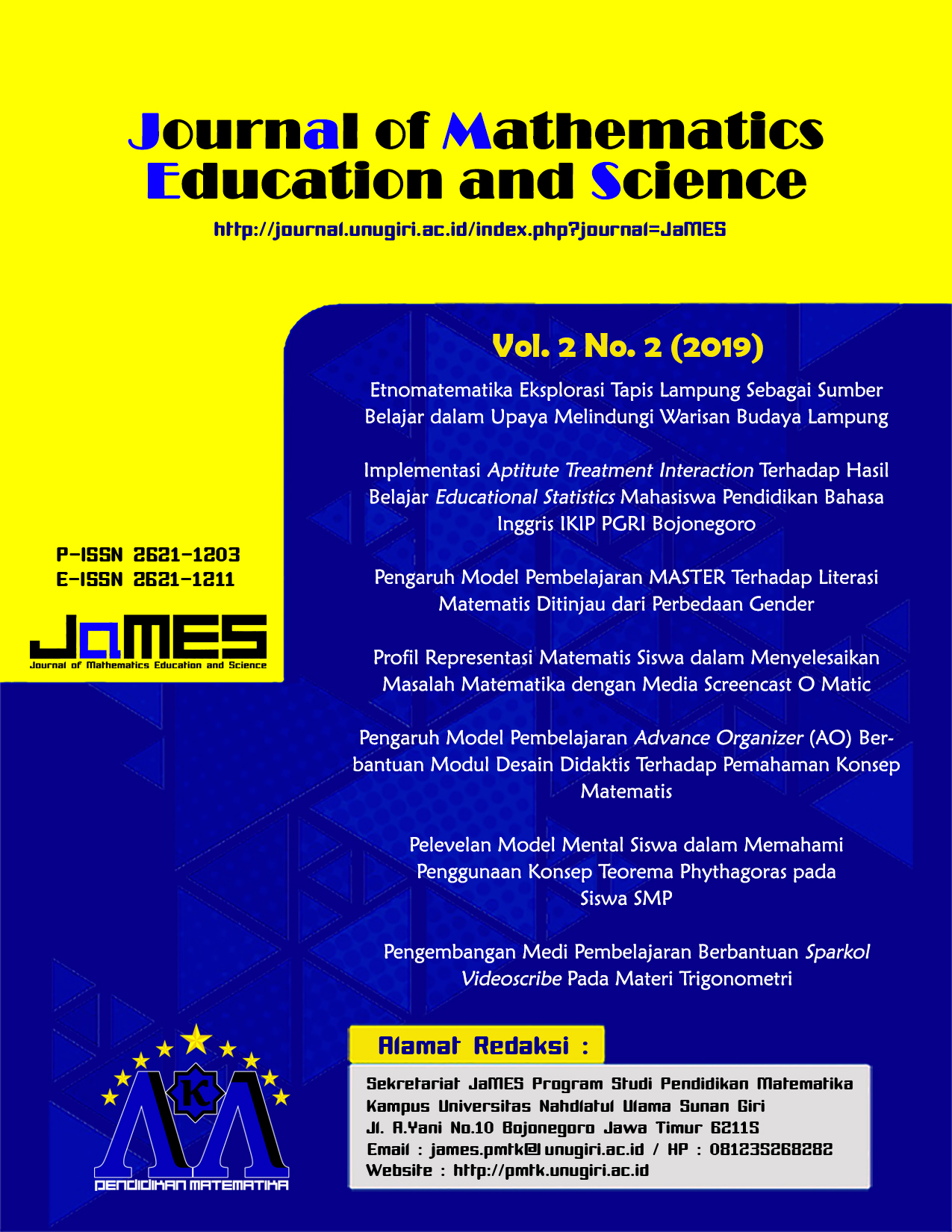 How to Cite
Akram, T., Putra, R. W., & Farida, F. (2019). PENGEMBANGAN MEDIA PEMBELAJARAN BERBANTUAN SPARKOL VIDEOSCRIBE PADA MATERI TRIGONOMETRI. Journal of Mathematics Education and Science, 2(2), 107-115. https://doi.org/https://doi.org/10.32665/james.v2i2.117
This work is licensed under a Creative Commons Attribution-NonCommercial-ShareAlike 4.0 International License.
The Authors submitting a manuscript do so on the understanding that if accepted for publication, copyright of the article shall be assigned to JaMES, Department of Mathematics Education, Universitas Nahdlatul Ulama Sunan Giri as publisher of the journal, and the author also holds the copyright without restriction.
Copyright encompasses exclusive rights to reproduce and deliver the article in all form and media, including reprints, photographs, microfilms and any other similar reproductions, as well as translations. The reproduction of any part of this journal, its storage in databases and its transmission by any form or media, such as electronic, electrostatic and mechanical copies, photocopies, recordings, magnetic media, etc. , are allowed with a written permission from JaMES, Department of Mathematics Education, Universitas Nahdlatul Ulama Sunan Giri.
JaMES, Department of Mathematics Education, Universitas Nahdlatul Ulama Sunan Giri, the Editors and the Advisory International Editorial Board make every effort to ensure that no wrong or misleading data, opinions or statements be published in the journal. In any way, the contents of the articles and advertisements published in the JaMES, Department of Mathematics Education, Universitas Nahdlatul Ulama Sunan Giri are sole and exclusive responsibility of their respective authors and advertisers.