KESALAHAN PROSES BERPIKIR MAHASISWA LAKI-LAKI DAN PEREMPUAN DALAM MEMECAHKAN MASALAH GRUP
Suesthi Rahayuningsih

Universitas Islam Majapahit

Feriyanto Feriyanto

Universitas Islam Majapahit
Keywords:
kesalahan proses berpikir, pemecahan masalah, grup, error thinking, problem solving, group
Abstract
The purposes of this research are 1) to describe the errors of thinking process of male student in solving group problems; 2) to describe the errors of thinking of female student in solving group problems. This research is an explorative research using a qualitative approach. Data collection is done by task-based interviews. The errors of thinking process based on indicators: fact errors, misconceptions, operating errors and principle errors in solving group problems. The data in this study are the results of interviews and group problem tests. The results of this research show that in fact errors, male subject experienced errors in interpreting the results obtained, whereas female students do not understand the symbols (H, #) and in the context of group symbols. In conceptual errors, the second subject is the same mistake, namely the error in explaining the group and the closed nature. Likewise, with operating errors, there is no significant difference in the second subject. In principle errors, the male subject does not associate the identity element obtained in the previous step in determining the inverse, while the female subject does not associate the set H and binary operations.
Penelitian ini bertujuan  untuk: 1) mendeskripsikan kesalahan proses berpikir mahasiswa laki-laki dalam memecahkan masalah grup; 2) mendeskripsikan kesalahan proses berpikir mahasiswa perempuan dalam memecahkan masalah grup. Penelitian ini merupakan penelitian eksploratif dengan menggunakan pendekatan kualitatif. Pengumpulan data dilakukan dengan wawancara berbasis tugas. Kesalahan proses berpikir berdasarkan indikator: kesalahan fakta, kesalahan konsep, kesalahan operasi dan kesalahan prinsip dalam memecahkan masalah grup.  Data dalam penelitian ini berupa hasil wawancara dan tes masalah grup. Hasil penelitian menunjukkan bahwa pada kesalahan fakta, subjek laki-laki mengalami kesalahan menginterpretasikan hasil yang didapat, sedangkan subjek perempuan tidak memahami simbol (H, #) dan mengalami kesalahan dalam menuliskan simbol grup. Pada kesalahan konsep, kedua subjek mengalami kesalahan yang sama yaitu kesalahan dalam menjelaskan grup dan sifat tertutup.  Demikian juga pada kesalahan operasi, tidak ada perbedaan yang signifikan pada kedua subjek. Pada kesalahan prinsip, subjek laki-laki tidak mengkaitkan elemen identitas yang diperoleh di langkah sebelumnya dalam menentukan invers, sedangkan subjek perempuan tidak mengkaitkan himpunan H dan operasi biner.
References
[1] Soedjadi, Kiat Pendidikan Matematika di Indonesia. Jakarta: Direktorat Jendral Pendidikan Tinggi Departemen Pendidikan Nasional, (2000).
[2] Carson, J.A Problem With Problem Solving, Teaching Thinking Without Teaching Knowledge. Journal of The Mathematics Educator, 17(2),(2007) 7–14.
[3] Santrock, J.W. Psikologi Pendidikan. Edisi Kedua. Terjemahan: Tri Wibowo B.S. Jakarta: Kencana Prenada Media Group, (2010).
[4] Polya, G. How To Solve It. Second Edition.Princeton, New Jersey: Pricenton University Press, (1973).
[5] Wiryoatmojo,S., Muhtarom, Shodiqin,A., Kesalahan Proses Berpikir Siswa Kelas VII Sekolah Menengah Pertama (SMP) Dalam Memecahkan Masalah Matematika. Prosiding SNMPM Universitas Sebelas Maret 2013. (2013) 103-111. Maret, Solo.
[6] Subaidah. Analisis Kesalahan Siswa Kelas VII MTs N 2 Surabaya dalam Menyelesaikan Soal Terapan Persamaan Linier Satu Variabel. MATHEDU, 1(2),(2006) 171 – 178.
[7] Widodo,S.A., Analisis Kesalahan Dalam Pemecahan Masalah Divergensi Tipe Membuktikan Pada Mahasiswa Matematika. Jurnal Pendidikan Matematika Undiksha.1 (1), (2013) 106-114
[8] Mubeen, S., Saeed, S., & Arif, M.H. Attitiude towards mathematics and achademic achievement in mathematics among secondary level boys and girls. IOSR Journal of Humanities and Social Sciences, 6(4),(2013) 38-41.
[9] Idris, Noraini. Enhancing Student' Undertanding in Calculus Trough Writing.International Electronic Journal of Mathematics Education,4(1),(2009) 36-55.
[10] Yuniati, Suci.Peta Konsep (Mind Mapping) Dalam Pembelajaran Struktur Aljabar.Gamatika,(3)2,(2013). https://download.portalgaruda.org/article.php?article=297306&val=5321&title=PETA%20KONSEP%20(MIND%20MAPPING)%20DALAM%20PEMBELAJARAN%20STRUKTUR%20ALJABAR. Diakses 30 Mei 2017
[11] Kholishoh, F.N.N., Pramudya,I., Kurniawati, I., Analisis Kesalahan Dalam Menyelesaikan Soal Cerita Dengan Fong's Schematic Model For Error Analysis Pada Materi Volume Prisma Dan Limas Ditinjau Dari Gender Siswa Kelas VIII E Smp Negeri 1 Kartasura Tahun Ajaran 2015/2016. Jurnal Pendidikan Matematika dan Matematika (JPMM) Solusi 1(1),(2017) 16-35.
[12] Dagun,Save M. Maskulin dan Feminim: Perbedaan Pria –Wanita dalam Fisiologi, Psikologi, Seksual,Karier dan Masa Depan. Jakarta: Rineka Cipta. (1991)
[13] Rahayuningsih,S.,Proses Berpikir Siswa SMA dalam Memecahkan Masalah Matematika Ditinjau dari Perbedaan Gaya Kognitif dan Perbedaan Gender. Tesis.Surabaya: PPS Universitas Negeri Surabaya (2014).
[14] Macoby, E.E. & Jacklin, C.N.The psychology of sex differences. Stanford, CA: Stanford University Press.(1974).
[15] Amir,A. Pemahaman Konsep dan Pemecahan Masalah dalam Pembelajaran Matematika. Logaritma: Jurnal Ilmu-ilmu Kependidikan dan Sains, 3(1), (2015).
[16] Alan L,W. Active mathematics in classrooms : finding out why children make mistakes - and then doing something to help them. Square One: Primary Journal of the Mathematical Association of New South Wales. 15(4), (2005)http://www.curriculumsupport.education.nsw.gov.au/primary/mathematics/assets/pdf/sqone.pdf. Diakses 26 mei 2017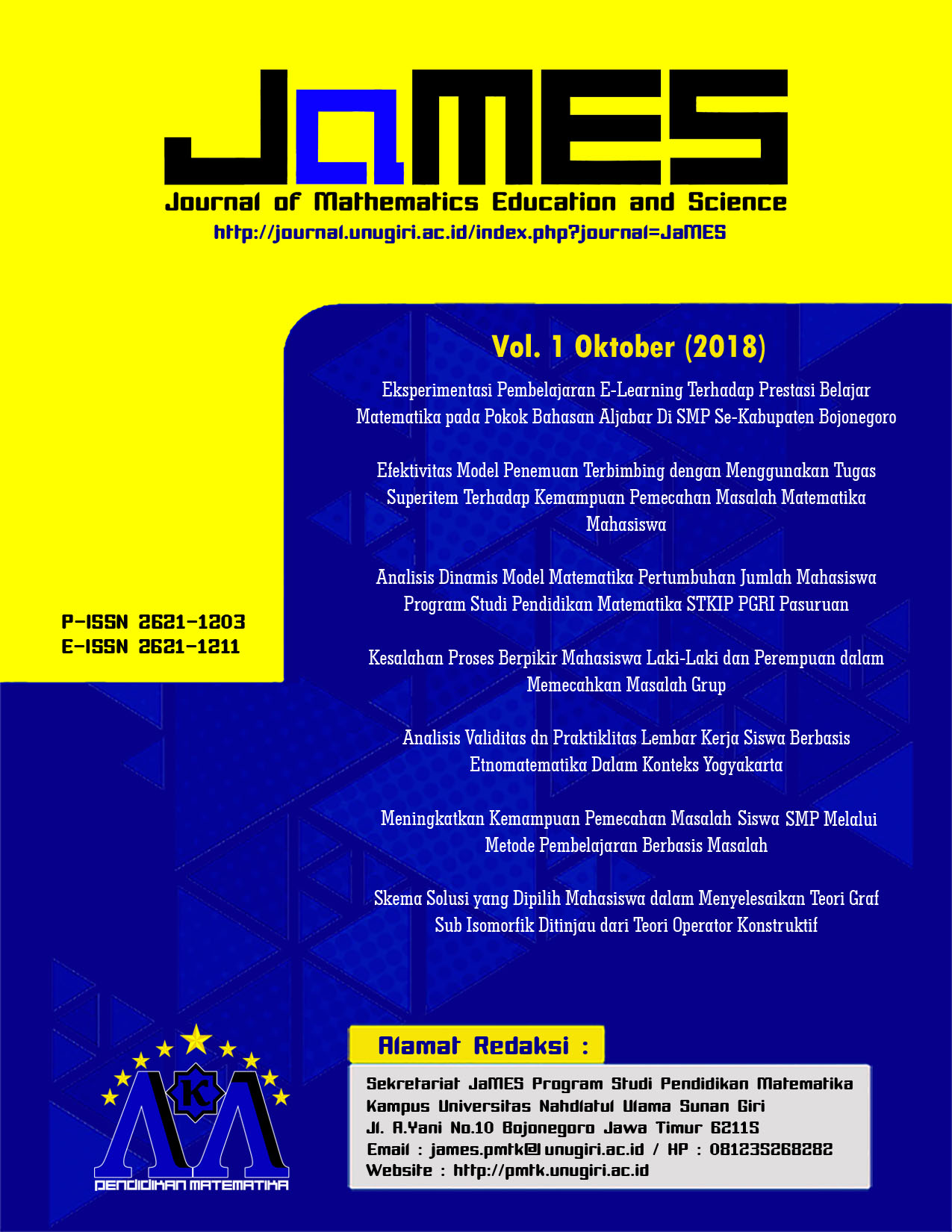 How to Cite
Rahayuningsih, S., & Feriyanto, F. (2018). KESALAHAN PROSES BERPIKIR MAHASISWA LAKI-LAKI DAN PEREMPUAN DALAM MEMECAHKAN MASALAH GRUP. Journal of Mathematics Education and Science, 1(October), 67-75. https://doi.org/https://doi.org/10.32665/james.v1iOctober.40
This work is licensed under a Creative Commons Attribution-NonCommercial-ShareAlike 4.0 International License.
The Authors submitting a manuscript do so on the understanding that if accepted for publication, copyright of the article shall be assigned to JaMES, Department of Mathematics Education, Universitas Nahdlatul Ulama Sunan Giri as publisher of the journal, and the author also holds the copyright without restriction.
Copyright encompasses exclusive rights to reproduce and deliver the article in all form and media, including reprints, photographs, microfilms and any other similar reproductions, as well as translations. The reproduction of any part of this journal, its storage in databases and its transmission by any form or media, such as electronic, electrostatic and mechanical copies, photocopies, recordings, magnetic media, etc. , are allowed with a written permission from JaMES, Department of Mathematics Education, Universitas Nahdlatul Ulama Sunan Giri.
JaMES, Department of Mathematics Education, Universitas Nahdlatul Ulama Sunan Giri, the Editors and the Advisory International Editorial Board make every effort to ensure that no wrong or misleading data, opinions or statements be published in the journal. In any way, the contents of the articles and advertisements published in the JaMES, Department of Mathematics Education, Universitas Nahdlatul Ulama Sunan Giri are sole and exclusive responsibility of their respective authors and advertisers.