SKEMA SOLUSI YANG DIPILIH MAHASISWA DALAM MENYELESAIKAN TEORI GRAF SUB ISOMORFIK DITINJAU DARI TEORI OPERATOR KONSTRUKTIF
Puput Suriyah

IKIP PGRI Bojonegoro
Keywords:
Skema Solusi, Isomorfik Graf, Teori Operator Konstruktif, Solution Scheme, Isomorphic Graph, Constructive Operator Theory
Abstract
This study aims to describe the solution scheme chosen by students in understanding the isomorphic relation of a graph. The method used in this study is a qualitative research method. Subjects in this study amounted to 35 students from the Mathematics Education Study Program of PGRI Bojonegoro in the fourth semester of the 2017/2018 academic year. Test questions related to the isomorphic understanding of a graph were given to thirty-five students, then six students were selected to be interviewed. Data analysis was carried out by using triangulation. it was done by comparing the data from video interviews and test results data. This is done to ensure the validity and reliability of research. The result of the study shows that the elements of disclosure in the description of student answers were various. It shows that the existence of an operative scheme that is a diverse problem-solving. There was a proof of the gravity of a graph by adding vertices to both graphs comparing and making sure that the numbers are the same, reviewing adjacent, and some are equipped with a matrix. In the element of impact there are those who write conclusions and there are some who do not. Variations in the solution scheme used by students can be used as an evaluation of learning that students are unique so there is a need for continuous innovation related to students center learning.
Penelitian ini bertujuan untuk mendeskripsikan skema solusi yang dipilih oleh siswa dalam memahami hubungan isomorfik suatu graf. Metode yang digunakan dalam penelitian ini adalah metode penelitian kualitatif. Subyek dalam penelitian ini berjumlah 35 siswa dari Program Studi Pendidikan Matematika PGRI Bojonegoro pada semester keempat tahun akademik 2017/2018. Pertanyaan tes yang berkaitan dengan pemahaman isomorfik grafik diberikan kepada tiga puluh lima siswa, kemudian enam siswa dipilih untuk diwawancarai. Analisis data dilakukan dengan menggunakan triangulasi. itu dilakukan dengan membandingkan data dari wawancara video dan data hasil tes. Ini dilakukan untuk memastikan validitas dan reliabilitas penelitian. Hasil penelitian menunjukkan bahwa elemen pengungkapan dalam deskripsi jawaban siswa beragam. Ini menunjukkan bahwa keberadaan skema operasi yang merupakan pemecahan masalah yang beragam. Ada bukti gravitasi grafik dengan menambahkan simpul ke kedua grafik yang membandingkan dan memastikan bahwa angka-angkanya sama, meninjau yang berdekatan, dan beberapa dilengkapi dengan matriks. Dalam elemen dampak ada orang yang menulis kesimpulan dan ada sebagian yang tidak. Variasi dalam skema solusi yang digunakan oleh siswa dapat digunakan sebagai evaluasi pembelajaran bahwa siswa adalah unik sehingga ada kebutuhan untuk inovasi berkelanjutan yang terkait dengan pembelajaran pusat siswa.
References
[1] Direktorat Jenderal Pendidikan Dasar dan Menengah, Peraturan Menteri Pendidikan Nasional Republik Indonesia Nomor 22 Tahun 2006 Tentang Standar Isi Untuk Satuan Pendidikan Dasar dan Menengah. (2006)
[2] Dontown, Ann. Links Between Children's Understanding of Multiplication and Solution Strategies For Division, Proceedings of the 31st Annual Conference of the Mathematics Education Research Group of Australasia M. Goos, R. Brown, & K. Makar (Eds.), ©MERGA Inc. (2008).
[3] Pascual-Leone, J.,J.Johnson, A. Agostino. Mental Attention, Multiplication Structures, and the Causal Problem of Cognitive Development. In Ferrari, M., Vuletic, L (eds). Developmental Relations among Mind, Brain and Emotion. Springer. (2010).
[4] Mampouw, Helti Lygia., Agung Lukito, St. Suwarsono. Internalization of Multiplication and Division Concepts in A Neo-Piagetian Perspective. Proceeding 2014 International Conference on Research, Implementation, and Education of Mathematics and Science (ICRIEMS). (2014). Yogyakarta State University.
[5] Schunk, Dale . Learning Theoris: An Educational Perspective, 6thed. (terj.). Yogyakarta: Pustaka Belajar. (2012)
[6] Santrock, John W. 2011. Psikologi Pendidikan. Jakarta: Prenada Media Group.
[7] Pascual-Leone. J., E.M.R. Escobar, J. Johnson. Logic: Development of Logical Operation. In W. Hirstein (section ed.). Encyclopedia of Human Behavior. New York: University Press. (2012)
[8] Marshall, Sandra P. Schemas in Problem Solving. New York: Cambridge University Press. (1999)
[9] Fishbein, Efraim.Intuitions and Schemata in Mathematical Reasoning. Dalam Dina Tirosh (ed.) Form of Mathematical Knowledge Learning and Teaching with Understanding. Kluwer Academic Publishers. (1999)
[10] Sugiyono. Metode Penelitian Pendidikan. Pendekatan Kuantitatif, Kualitatif, dan R & D. Bandung: Alfabeta. (2008)
[11] Mahmudi, Ali. Mengembangkan Soal Terbuka (Open Ended Problem) dalam Pembelajaran Matematika. Makalah Disajikan di Seminar Nasional Matematika dan Pendidikan Matematika yang Diselenggarakan oleh Jurusan Pendidikan Matematika FMIPA UNY Yogyakarta. (2008) 28 November.
[12] Suherman, Erman, dkk. Strategi Pembelajaran Matematika Kontemporer. Bandung: JICA UPI. (2003)
[13] Mampouw, H.L., Lukito, A., Suwarsono, St. Skema Solusi yang Dipilih Mahasiswa dalam Menyelesaikan Soal Cerita Ditinjau Dari Teori Operator Konstruktif. Prosiding Seminar Nasional Matematika dan Pendidikan Matematika FMIPA J UNESA 2015. (2015) 809-819. 25 April, Surabaya.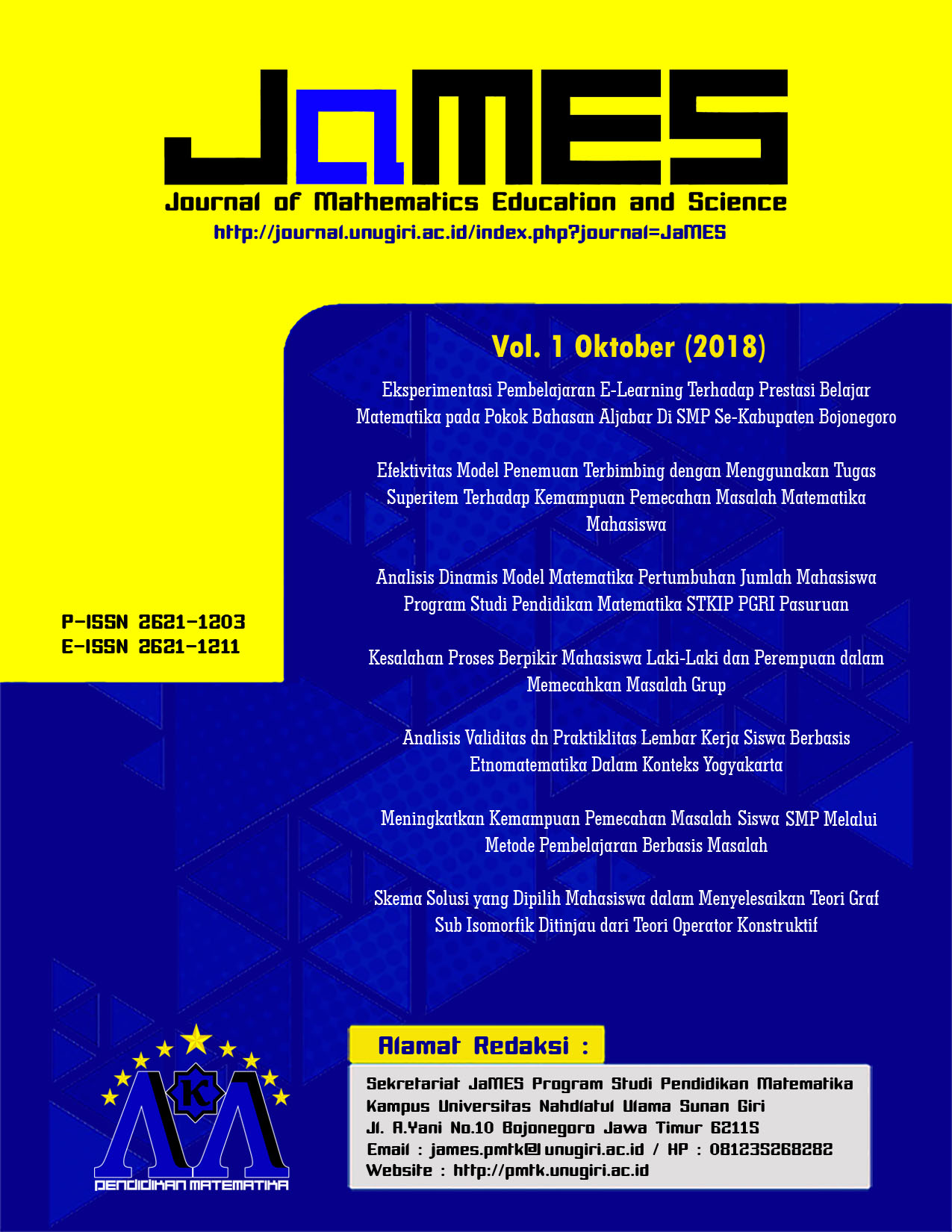 How to Cite
Suriyah, P. (2018). SKEMA SOLUSI YANG DIPILIH MAHASISWA DALAM MENYELESAIKAN TEORI GRAF SUB ISOMORFIK DITINJAU DARI TEORI OPERATOR KONSTRUKTIF. Journal of Mathematics Education and Science, 1(October), 91-97. https://doi.org/https://doi.org/10.32665/james.v1iOctober.45
This work is licensed under a Creative Commons Attribution-NonCommercial-ShareAlike 4.0 International License.
The Authors submitting a manuscript do so on the understanding that if accepted for publication, copyright of the article shall be assigned to JaMES, Department of Mathematics Education, Universitas Nahdlatul Ulama Sunan Giri as publisher of the journal, and the author also holds the copyright without restriction.
Copyright encompasses exclusive rights to reproduce and deliver the article in all form and media, including reprints, photographs, microfilms and any other similar reproductions, as well as translations. The reproduction of any part of this journal, its storage in databases and its transmission by any form or media, such as electronic, electrostatic and mechanical copies, photocopies, recordings, magnetic media, etc. , are allowed with a written permission from JaMES, Department of Mathematics Education, Universitas Nahdlatul Ulama Sunan Giri.
JaMES, Department of Mathematics Education, Universitas Nahdlatul Ulama Sunan Giri, the Editors and the Advisory International Editorial Board make every effort to ensure that no wrong or misleading data, opinions or statements be published in the journal. In any way, the contents of the articles and advertisements published in the JaMES, Department of Mathematics Education, Universitas Nahdlatul Ulama Sunan Giri are sole and exclusive responsibility of their respective authors and advertisers.