ETNOMATEMATIKA PEMBAGIAN HARTA WARIS PADA MASYARAKAT LAMPUNG
Suci Atmidasari

Universitas Islam Negeri Raden Intan Lampung

Lailatus Sifa Uzakiyah

Universitas Islam Negeri Raden Intan Lampung

Lulu Khusnul Khotimah

Universitas Islam Negeri Raden Intan Lampung

Rosida Rakhmawati M

Universitas Islam Negeri Raden Intan Lampung

Bambang Sri Anggoro

Universitas Islam Negeri Raden Intan Lampung
Keywords:
Etnomatematika, Pembagian Harta Waris, Bilangan Rasional, Ethnomathematics, Inheritance, Rational Number
Abstract
Inheritance in customary law has distinction in the process of distribution itself especially in each region. It naturally has mathematic concept. Dealing with concept and the pattern, the researcher intends to explain that there are some rules based on mathematical calculation which can be reviewed based on rational number concept in mathematic analysis. This article aims to investigate relationship between ethno mathematics concept and inheritance system in Lampung.  The allotment of inheritances in Lampung indirectly has implemented concept and pattern of mathematics.this research is classified as qualitative research which apply ethnography approach. To collect the data, the researcher used observation, interview and documentation. To test the validity, the researcher used triangulation technique and Miles and Huberman model. The result of the research shows that the process of allotment of inheritance in Lampung ness has applied ethno mathematical activity. It can be seen from the activity of calculating on the rational number such as comparison, sequences, rational number, addition, subtraction and multiplication of rational number.
Warisan dalam hukum adat pada proses pembagiannya memiliki perbedaan pada setiap daerah yang hakikatnya mengandung konsep matematis. Melihat suatu konsep dan pola matematika, peneliti ingin  mengungkap adanya ketentuan-ketentuan berdasarkan perhitungan matematis yang dapat ditinjau berdasarkan konsep bilangan rasional dalam analisis matematika. Artikel ini bertujuan untuk mengetahui adanya keterkaitan antara konsep etnomatematika pada sistem pembagian harta waris masyarakat Lampung. Pembagian harta waris masyarakat Lampung ternyata secara tidak langsung telah menerapkan konsep dan pola matematika dalam aktivitas pembagiannya. Penelitian ini merupakan jenis penelitian kualitatif dengan pendekatan etnografi. Teknik pengumpulan data yang digunakan yaitu melalui pengamatan (observasi), wawancara dan dokumentasi. Uji keabsahan dalam analisis etnomatematika pembagian harta waris pada masyarakat Lampung ini menggunakan triangulasi teknik dan teknik analisis data model Miles dan Huberman. Berdasarkan hasil penelitian yang dilakukan peneliti dapat disimpulkan bahwa pada proses pembagian harta waris masyarakat Lampung terdapat suatu aktivitas etnomatematika dalam proses pembagiannya yaitu adanya aktivitas menghitung pada suatu konsep bilangan rasional seperti perbandingan, sifat urutan bilangan rasional, operasi penjumlahan, pengurangan dan perkalian bilangan rasional.
References
[1] Nisa, K. and Supriyatna, Sistem Pembagian Warisan pada Masyarakat Multikultural: Studi di Desa teluk Panji II Kecamatan Kampung Rakyat Kabupaten labuhan Batu Selatan Sumatera Utara, Al-Ahwal, 8(2), (2015), p. 162.
[2] Husni, A., Pembagian Warisan Harta Pusaka Rendah Tidak Bergerak Dalam Masyarakat Minangkabau, Indones. J. Islam. Fam. Law, 6(2), (2016), p. 299.
[3] Tarigan, A. A., Hukum Waris di Masyarakat Karo Muslim Sumatera Utara," J. Ilm. Syariah, 14(2), (2014), p. 200.
[4] Ulum, A. S., Study Ethnomathematics Sebagai Solusi Alternatif Pengembangan Pendidikan Matematika dan Budaya di Aceh, Aceh converence Pap., (2013), p. 2.
[5] D'Ambrosio, U., The Ethnomathematics Program and a Culture of Peace, J. Math. Cult., 10(2), (2016), p. 6.
[6] Creswell, J.W., Research Design pendekatan Kualitatif, Kuantitatif, dan Mixed. Yogyakarta : Pustaka Pelajar, (2012).
[7] Bachri, B.S., Meyakinkan Validitas Data Melalui Triangulasi, J. Teknol. Pendidik., 10(1), (2016), p. 61.
[8] Komara, E., Penelitian Tindakan Kelas dan Peningkatan Profesionalitas Guru. Bandung: PT. Refika aditama, (2012).
[9] Sugiyono, Metode Penelitian Pendidikan Pendekatan Kuantitatif, Kualitatif dan RnD. Bandung: alfabetha, (2012).
[10] Moleng, L. J., Metodologi Penelitian Kualitatif. Bandung: PT Remaja Rosda Karya, (2012).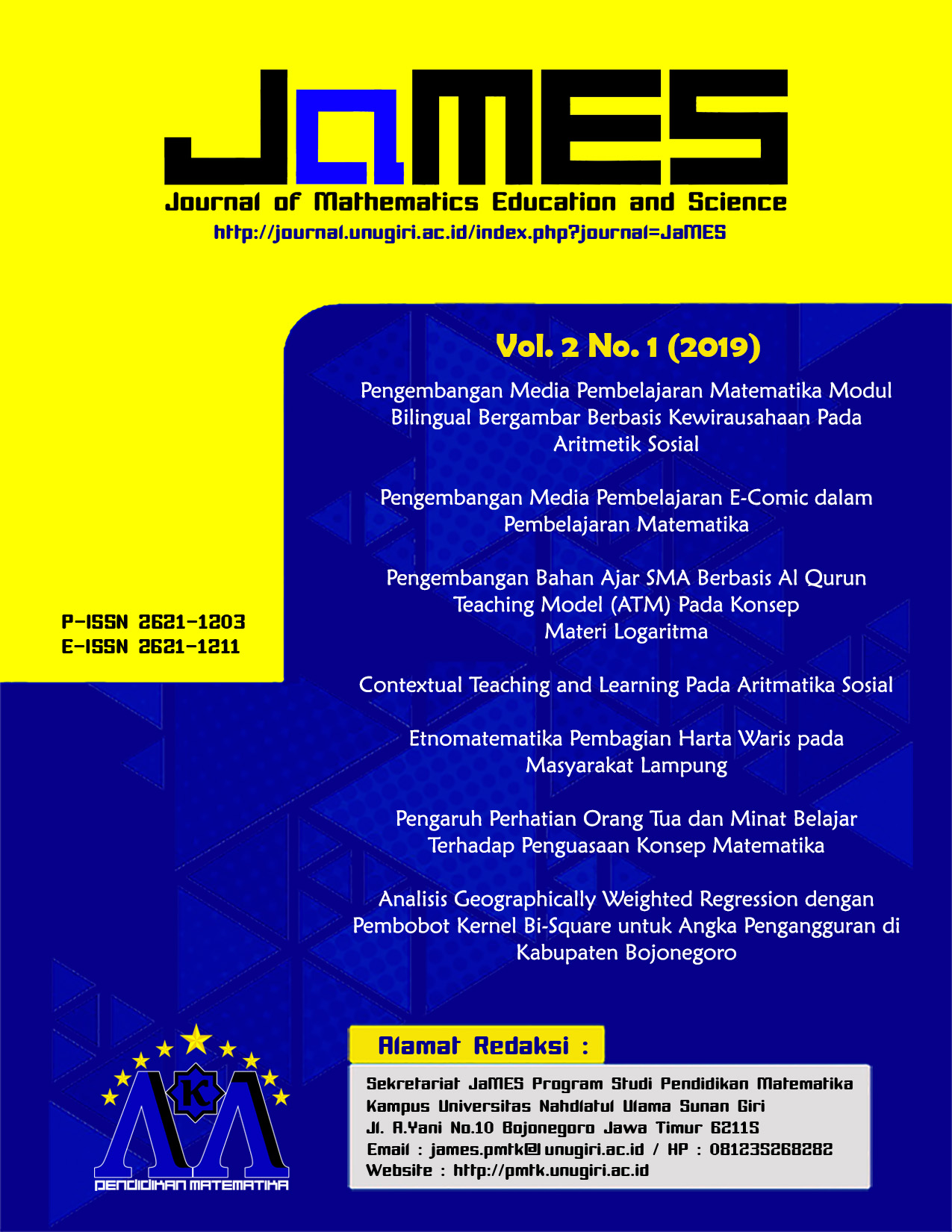 How to Cite
Atmidasari, S., Uzakiyah, L., Khotimah, L., Rakhmawati M, R., & Anggoro, B. (2019). ETNOMATEMATIKA PEMBAGIAN HARTA WARIS PADA MASYARAKAT LAMPUNG. Journal of Mathematics Education and Science, 2(1), 35-44. https://doi.org/https://doi.org/10.32665/james.v2i1.63
This work is licensed under a Creative Commons Attribution-NonCommercial-ShareAlike 4.0 International License.
The Authors submitting a manuscript do so on the understanding that if accepted for publication, copyright of the article shall be assigned to JaMES, Department of Mathematics Education, Universitas Nahdlatul Ulama Sunan Giri as publisher of the journal, and the author also holds the copyright without restriction.
Copyright encompasses exclusive rights to reproduce and deliver the article in all form and media, including reprints, photographs, microfilms and any other similar reproductions, as well as translations. The reproduction of any part of this journal, its storage in databases and its transmission by any form or media, such as electronic, electrostatic and mechanical copies, photocopies, recordings, magnetic media, etc. , are allowed with a written permission from JaMES, Department of Mathematics Education, Universitas Nahdlatul Ulama Sunan Giri.
JaMES, Department of Mathematics Education, Universitas Nahdlatul Ulama Sunan Giri, the Editors and the Advisory International Editorial Board make every effort to ensure that no wrong or misleading data, opinions or statements be published in the journal. In any way, the contents of the articles and advertisements published in the JaMES, Department of Mathematics Education, Universitas Nahdlatul Ulama Sunan Giri are sole and exclusive responsibility of their respective authors and advertisers.