ANALISIS GEOGRAPHICALLY WEIGHTED REGRESSION DENGAN PEMBOBOT KERNEL BI-SQUARE UNTUK ANGKA PENGANGGURAN DI KABUPATEN BOJONEGORO
Alif Yuanita Kartini

UNUGIRI Bojonegoro
Keywords:
unemployment, Spatial, Geographically Weighted Regression, Kernel Bi-square, Pengangguran, Spasial
Abstract
The unemployment rate in Bojonegoro Regency has increased every year. Based on data from the Bojonegoro Regency Industry and Manpower Office (Disperinaker), at the end of June 2018 the number of unemployed people increased from the original 23,000 people to 24,000 people. It is far away from the government target to decrease this rate in the same year. The Great amount of the unemployment number is closely related to unequitable of developing program. As a result, the left areas with a great number of unemployment appears. There are several population indicators that are considered to have a great effect on the unemployment rate. Due to of those indicators, it is urgently needed to analyze the correlation between they did the analysis of correlation those factors toward poverty rate in Bojonegoro regency. Unfortunately, unemployment is spatial matter which there is correlation between unemployment rate and used predictor variable is not constant for all districts in Bojonegoro regency. That situation commonly becomes a problem in analyzing especially when applied global regression. Dealing with the problem, the researcher intended to analyze by applying Geographically Weighted Regression (GRW) method by applying Kernel Bi-square. The result shows that global regression model is able to explain variation of data is about 69,8%, but the use of regression model is not able to fulfil residual assumption. It appears heterokedasticity which shows that various residual model regression is not constant. Those problems can be solved by applying GWR which it is chosen by the center of Bojonegoro district. GWR model approved that it has better result than the previous one because it is able to explain variation and it is better in explaining the variation, it is about 72,11%.
Angka pengangguran di Kabupaten Bojonegoro dari tahun ke tahun semakin meningkat. Berdasarkan data dari Dinas Perindustrian dan Tenaga Kerja (Disperinaker) Kabupaten Bojonegoro, pada akhir Juni 2018 jumlah pengangguran semakin meningkat dari semula 23.000 orang menjadi 24.000 orang. Kondisi tersebut masih jauh dari target pemerintah untuk menurunkan angka pengangguran pada tahun 2018. Tingginya angka pengangguran tersebut tidak terlepas dari adanya ketidakmerataan pembangunan, sehingga memunculkan daerah tertinggal dengan angka pengangguran yang tinggi. Ada beberapa indikator kependudukan yang dianggap berpengaruh besar terhadap tingkat pengangguran, oleh karena itu ingin dilakukan analisa hubungan antara indikator kependudukan terhadap angka kemiskinan di Kabupaten Bojonegoro. Namun pengangguran merupakan suatu permasalahan spasial, dimana hubungan antara angka pengangguran dengan variabel prediktor yang digunakan tidak konstan (non-stationer) untuk seluruh Kecamatan di Kabupaten Bojonegoro. Kondisi tersebut seringkali menjadi masalah pada analisa ketika menggunakan regresi global. Oleh karena itu ingin dibandingkan jika dilakukan analisa menggunakan metode Geographically Weighted Regression(GWR) dengan Pembobot Kernel Bi-Square. Hasil model regresi global yang diperoleh mampu menerangkan keragaman data sebesar 69,8%, namun penggunaan regresi global tersebut tidak mampu memenuhi asumsi residual yaitu terjadi heterokedasticity yang menunjukkan bahwa varians dari residual model regresi global masih belum konstan. Permasalahan tersebut dapat diselesaikan dengan menggunakan GWR, dimana model GWR yang dipilih adalah model dengan pusat Kecamatan Bojonegoro. Model GWR yang diperoleh terbukti lebih baik karena mampu menerangkan keragaman dengan lebih baik yaitu sebesar 72,11%.
References
[1] Utami, T.W., dkk. Pemodelan Regresi Berganda dan Geographically Weighted Regression pada Tingkat Pengangguran Terbuka di Jawa Tengah. Media Statistika 9(2) (2016).
[2] Prasanti, T.A. Aplikasi Regresi Data Panel untuk Pemodelan Tingkat Pengangguran Terbuka Kabupaten/Kota di Provinsi Jawa Tengah.Skripsi Program Sarjana Statistika Universitas Diponegoro (2015).
[3] Fotheringham, A.S. Brunsdon, C., dan Charlton, M. Geographically Weighted Regression, John Wiley and Sons, Chichester, UK. (2002).
[4] Leung, Y. Mei, C.L. dan Zhang, W.X. Statistical Tests for Spatial Non-Stationarity Based on the Geographically Weighted Regression Model, Environment and Planning A (2000).
[5] Draper, N. dan Smith, H. Analisis Regresi Terapan. PT. Gramedia Pustaka Utama. Jakarta (1992).
[6] Mei, C.L. "Geographically Weighted Regression Technique for Spatial Data Analysis", School Of Science Xi'an Jiaotong University (2005).
[7] Gujarati, D. Dasar-dasar Ekonometrika Edisi Lima (diterjemahkan oleh Mangunsong, R.C.). Salemba Empat. Jakarta (2012).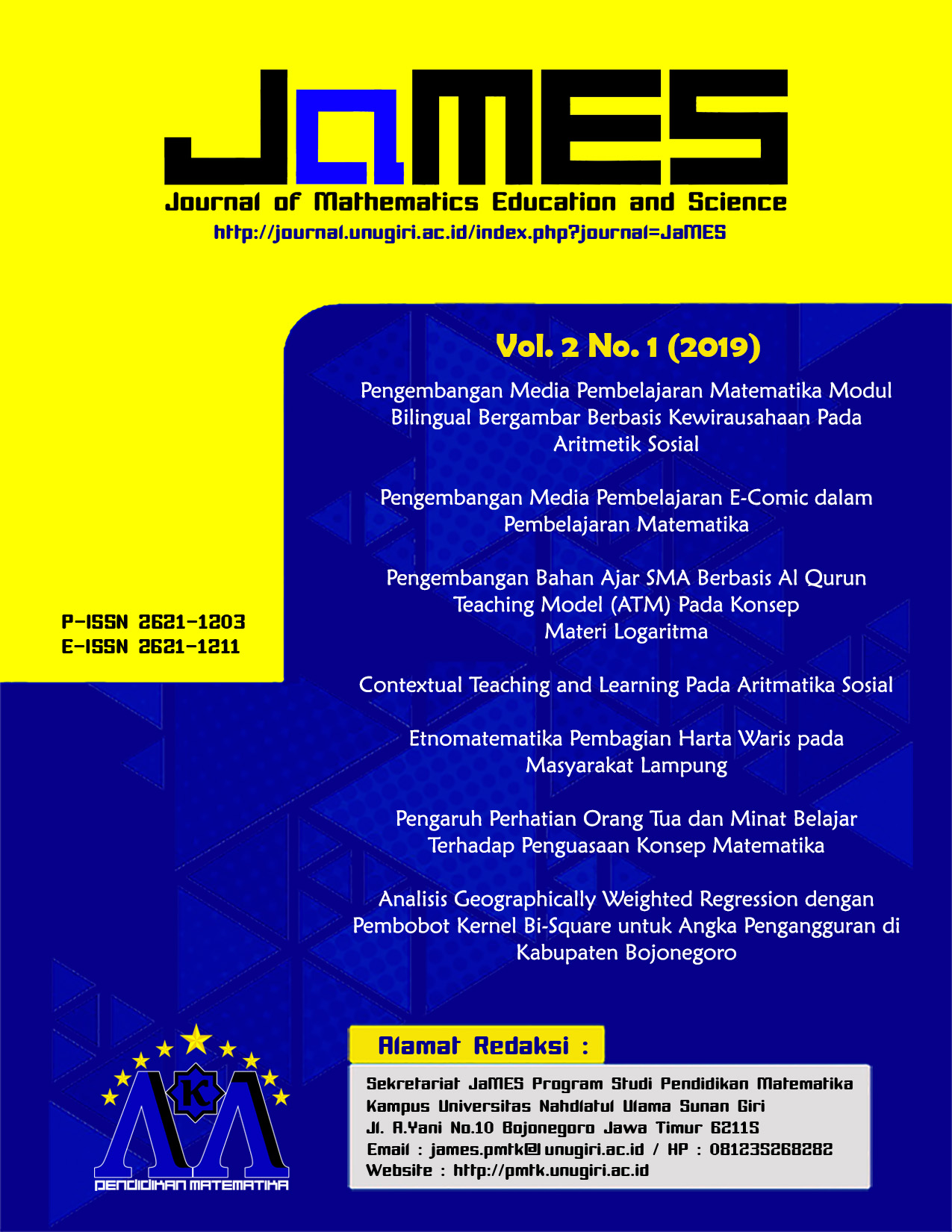 How to Cite
Kartini, A. (2019). ANALISIS GEOGRAPHICALLY WEIGHTED REGRESSION DENGAN PEMBOBOT KERNEL BI-SQUARE UNTUK ANGKA PENGANGGURAN DI KABUPATEN BOJONEGORO. Journal of Mathematics Education and Science, 2(1), 51-59. https://doi.org/https://doi.org/10.32665/james.v2i1.75
This work is licensed under a Creative Commons Attribution-NonCommercial-ShareAlike 4.0 International License.
The Authors submitting a manuscript do so on the understanding that if accepted for publication, copyright of the article shall be assigned to JaMES, Department of Mathematics Education, Universitas Nahdlatul Ulama Sunan Giri as publisher of the journal, and the author also holds the copyright without restriction.
Copyright encompasses exclusive rights to reproduce and deliver the article in all form and media, including reprints, photographs, microfilms and any other similar reproductions, as well as translations. The reproduction of any part of this journal, its storage in databases and its transmission by any form or media, such as electronic, electrostatic and mechanical copies, photocopies, recordings, magnetic media, etc. , are allowed with a written permission from JaMES, Department of Mathematics Education, Universitas Nahdlatul Ulama Sunan Giri.
JaMES, Department of Mathematics Education, Universitas Nahdlatul Ulama Sunan Giri, the Editors and the Advisory International Editorial Board make every effort to ensure that no wrong or misleading data, opinions or statements be published in the journal. In any way, the contents of the articles and advertisements published in the JaMES, Department of Mathematics Education, Universitas Nahdlatul Ulama Sunan Giri are sole and exclusive responsibility of their respective authors and advertisers.