IMPLEMETASI APTITUDE TREATMENT INTERACTION TERHADAP HASIL BELAJAR EDUCATIONAL STATISTICS MAHASISWA PENDIDIKAN BAHASA INGGRIS IKIP PGRI BOJONEGORO
Dian Ratna Puspananda

IKIP PGRI Bojonegoro
Keywords:
Aptitude Treatment Interaction (ATI), Learning Achievement, Prestasi Belajar, Educational Statistics
Abstract
This study aims to determine the effectiveness of the Aptitude Treatment Interaction learning model on the learning achievement of English education students in the subject of educational statistics. The instrument used is a subjective test. The sample used was 50 students, 22 students in the control class, and 28 students in the experiment class of the English Education study program at the Faculty of Language and Art Education at IKIP PGRI Bojonegoro. The data analysis used in this study is a t-test. The results of the study showed that the learning achievement of students of the English language education program became better after being given Aptitude Treatment Interaction in the Educational Statistics course.
Penelitian ini bertujuan untuk mengetahui keefektifan model pembelajaran Aptitude Treatment Interactionterhadap hasil belajar mahasiswa pendidikan bahasa inggris pada mata kuliah educational statistics. Instrumen yang digunakan adalah soal uraian. Sampel yang digunakan sebanyak 50 mahasiswa, 22 mahasiswa pada kelas kontrol dan 28 mahasiswa pada kelas eksperimen dari program studi Pendidikan Inggris Fakultas Pendidikan Bahasa dan Seni IKIP PGRI Bojonegoro. Analisis data yang digunakan dalam penelitian ini adalah t- test. Hasil penelitian menunjukkan bahwa hasil belajar mahasiswa program studi pendidikan bahasa inggris menjadi lebih baik setelah diberikan pembelajaran Aptitude Treatment Interaction pada mata kuliah Educational Statistics.
References
[1] Budiyono, "Statistika untuk Penelitian," Surakarta: UNS Press, (2009).
[2] Sudjana, "Metoda Statistika". Bandung: Tarsito, (2005).
[3] Mulyono, S., "Pendidikan bagi Anak Berkesulitan Belajar". Jakarta: Rineka Cipta, (2003).
[4] Nurdin, S., "Model Pembelajaran yang Memperhatikan Keragaman Individu Peserta Didik dalam Kurikulum Berbasis Kompetensi". Jakarta: Quantum Teaching, (2005).
[5] Setiani, Upaya Meningkatkan Prestasi Belajar Akuntansi dengan Menerapkan Model Pembelajaran Aptitude Tratment Interaction (ATI). Jupe UNS, vol. 1, no. 2 (2013).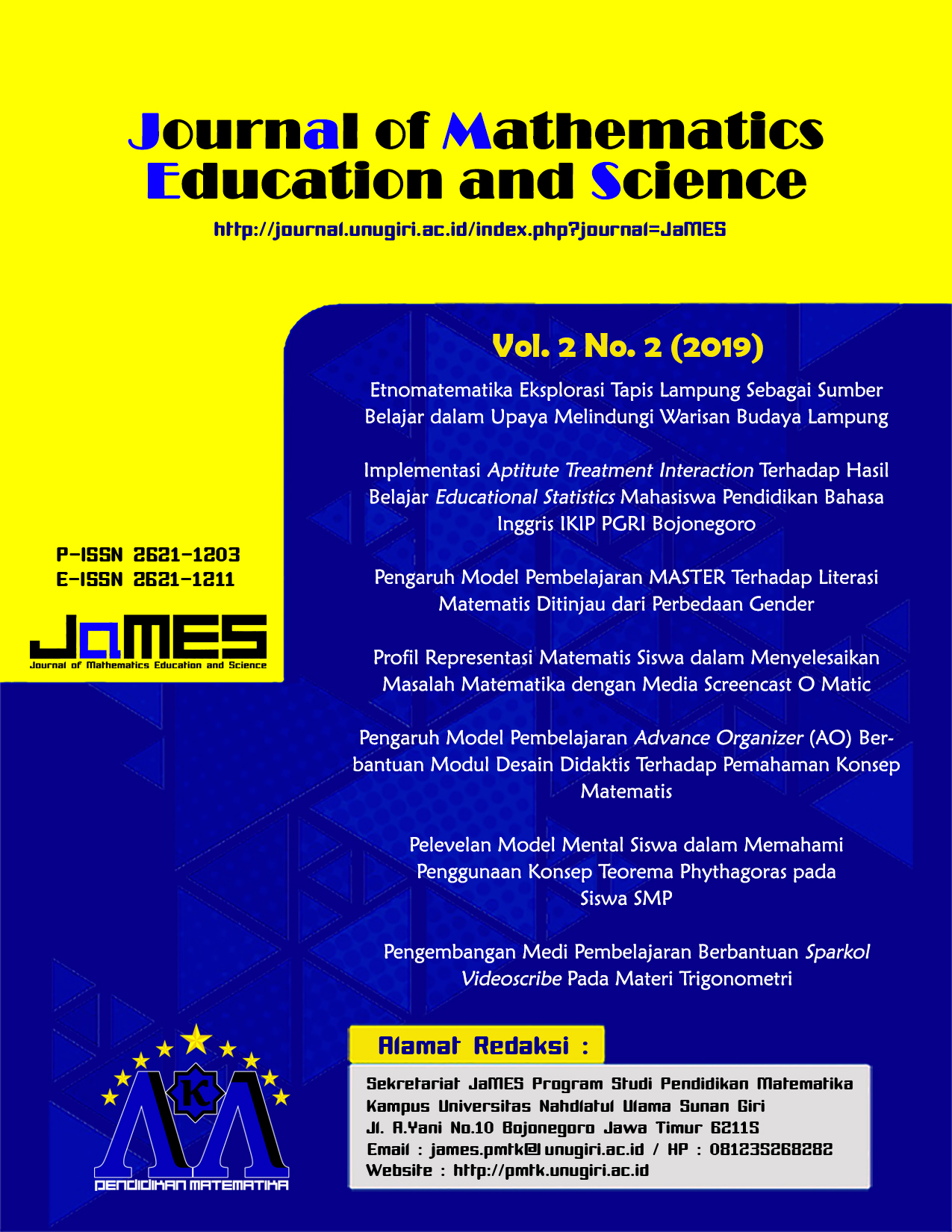 How to Cite
Puspananda, D. (2019). IMPLEMETASI APTITUDE TREATMENT INTERACTION TERHADAP HASIL BELAJAR EDUCATIONAL STATISTICS MAHASISWA PENDIDIKAN BAHASA INGGRIS IKIP PGRI BOJONEGORO. Journal of Mathematics Education and Science, 2(2), 69-73. https://doi.org/https://doi.org/10.32665/james.v2i2.87
This work is licensed under a Creative Commons Attribution-NonCommercial-ShareAlike 4.0 International License.
The Authors submitting a manuscript do so on the understanding that if accepted for publication, copyright of the article shall be assigned to JaMES, Department of Mathematics Education, Universitas Nahdlatul Ulama Sunan Giri as publisher of the journal, and the author also holds the copyright without restriction.
Copyright encompasses exclusive rights to reproduce and deliver the article in all form and media, including reprints, photographs, microfilms and any other similar reproductions, as well as translations. The reproduction of any part of this journal, its storage in databases and its transmission by any form or media, such as electronic, electrostatic and mechanical copies, photocopies, recordings, magnetic media, etc. , are allowed with a written permission from JaMES, Department of Mathematics Education, Universitas Nahdlatul Ulama Sunan Giri.
JaMES, Department of Mathematics Education, Universitas Nahdlatul Ulama Sunan Giri, the Editors and the Advisory International Editorial Board make every effort to ensure that no wrong or misleading data, opinions or statements be published in the journal. In any way, the contents of the articles and advertisements published in the JaMES, Department of Mathematics Education, Universitas Nahdlatul Ulama Sunan Giri are sole and exclusive responsibility of their respective authors and advertisers.