PROFIL REPRESENTASI MATEMATIS SISWA DALAM MENYELESAIKAN MASALAH MATEMATIKA DENGAN MEDIA SCREENCAST O MATIC
Sri Devi Wulandari

Universitas Nusantara PGRI Kediri
Keywords:
representation, representasi, three-dimensional, dimensi tiga, screencast-o-matic
Abstract
The purpose of this study is to describe the profile of mathematical representation of students who are capable of early mathematics while resolving mathematical problems in three-dimensional material with O Matic screencast media. The research approach that will be used by researchers is qualitative. The type of research that used in this study is descriptive qualitative research, namely by analyzing existing data to obtain information about the profiles of mathematical representations to solve problems in the material of the Three dimensions with the O Matic screencast media. The research phase is the introduction, planning, research, and completion stage. This study uses test questions, interviews, and observation sheets. The results of this study subject able to meet the three indicators of mathematical representation ability that have been determined, but the final results of the answers are still less precise because they misunderstand the problem of the problem.
Tujuan penelitian ini adalah untuk mendeskripsikan profil representasi matematis siswa yang berkemampuan awal matematika sedang dalam menyelesaikan masalah matematika pada materi dimensi tiga dengan media screencast o matic.Pendekatan penelitian yang digunakan oleh peneliti adalah pendekatan penelitian kualitatif. Jenis penelitian yang digunakan dalam penelitian ini adalah penelitian kualitatif deskriptif, yaitu dengan cara menganalisis data yang ada untuk memperoleh informasi mengenai profil representasi matematis siwa untuk memecahkan soal pada materi dimensi Tiga dengan media screencast o matic. Tahap penelitian yaitu pendahuluan, perencanaan, pelaksanaan penelitian dan tahap penyelesaian. Penelitian ini menggunakan instrumen soal tes, wawancara dan lembar observasi. Hasil penelitian ini adalah subjek mampu memenuhi ketiga indikator kemampuan representasi matematis yang telah ditentukan, namun hasil akhir jawabannya masih kurang tepat karena salah memahami  permasalahan soal.
References
[1] Dahlan, J. A., Materi Pokok Analisis Kurikulum Matematika. Jakarta: Universitas Terbuka, (2011)..
[2] Hartono, M. Firdaus, dan Supriyanti, Kemampuan Representasi Matematis dalam Materi Fungsi dengna Pendekatan Open Ended pada siswa kelas VIII MTs Sirajul Ulum Pontianak. Jurnal Eksponen, (2019) 9-20.
[3] Kartini, Peranan Representasi dalam Pembelajaran Matematika. Seminar Nasional Matematika dan Pendidikan Matematika, Yogyakarta, 5 Desember 2009. Diambil dari http://core.ac.uk, pada tanggal 19 Mei 2019.
[4] Kurniawan, D. dan S. V. Dewi, Pengembangan Perangkat Pembelajaran dengan Media Screencast-O-Matic Mata Kuliah Kalkulus 2 Menggunakan Model 4-D Thiagarajan, Jurnal Siliwangi, (2017) 214-219.
[5] Sagala, S., "Konsep dan Makna Pembelajaran: Untuk Membantu memecahkan problematika belajar dan mengajar". Bandung: Alfabeta, (2013).
[6] Sugiyono, "Metode Penelitian Pendidikan Pendekatan Kuantitatif, kualitatif dan R&D". Bandung: Alfabeta, (2016).
[7] Syafri, F. Kemampuan Representasi Matematis dan Kemampuan Pembuktian Matematika. Jurnal Edumath, (2017) 9-20.
[8] Van De Walle, J. A., "Pengembangan Pengajaran Matematika Sekolah Dasar dan Menengah", Edisi Keenam Jilid 1. Jakarta: Erlangga, (2008).
[9] Wardhani, S., dkk. "Pembelajaran kemampuan pemecahan masalah matematikadi SMP". Yogyakarta : PPPPTK matematika, (2010).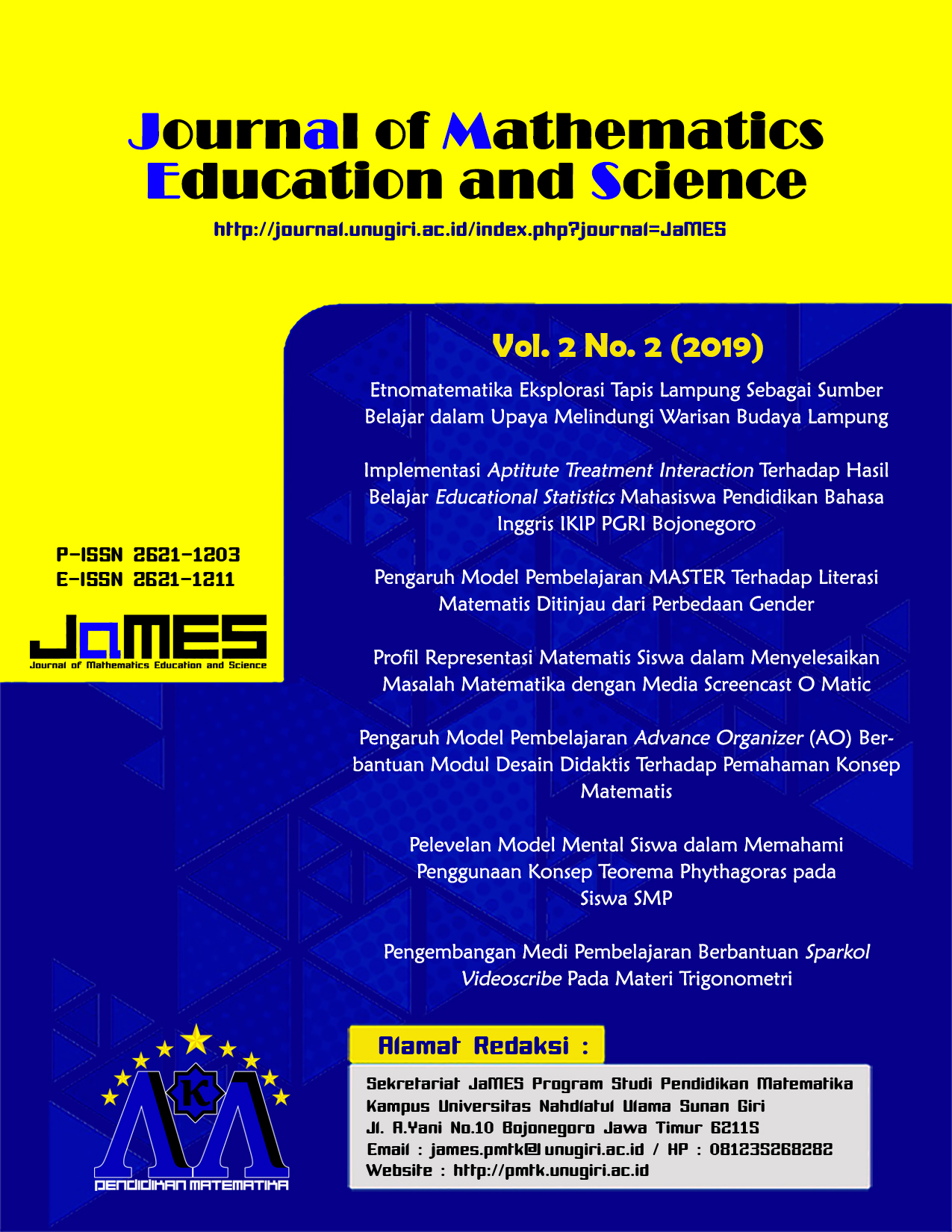 How to Cite
Wulandari, S. (2019). PROFIL REPRESENTASI MATEMATIS SISWA DALAM MENYELESAIKAN MASALAH MATEMATIKA DENGAN MEDIA SCREENCAST O MATIC. Journal of Mathematics Education and Science, 2(2), 83-87. https://doi.org/https://doi.org/10.32665/james.v2i2.98
This work is licensed under a Creative Commons Attribution-NonCommercial-ShareAlike 4.0 International License.
The Authors submitting a manuscript do so on the understanding that if accepted for publication, copyright of the article shall be assigned to JaMES, Department of Mathematics Education, Universitas Nahdlatul Ulama Sunan Giri as publisher of the journal, and the author also holds the copyright without restriction.
Copyright encompasses exclusive rights to reproduce and deliver the article in all form and media, including reprints, photographs, microfilms and any other similar reproductions, as well as translations. The reproduction of any part of this journal, its storage in databases and its transmission by any form or media, such as electronic, electrostatic and mechanical copies, photocopies, recordings, magnetic media, etc. , are allowed with a written permission from JaMES, Department of Mathematics Education, Universitas Nahdlatul Ulama Sunan Giri.
JaMES, Department of Mathematics Education, Universitas Nahdlatul Ulama Sunan Giri, the Editors and the Advisory International Editorial Board make every effort to ensure that no wrong or misleading data, opinions or statements be published in the journal. In any way, the contents of the articles and advertisements published in the JaMES, Department of Mathematics Education, Universitas Nahdlatul Ulama Sunan Giri are sole and exclusive responsibility of their respective authors and advertisers.