Analisis Pembelajaran Model Inkuiri Terbimbing Menggunakan Multirepresentasi Untuk Meningkatkan Hasil Belajar

Abstract View: 25,

PDF Download: 10
Keywords:
Guided Inquiry Model, Multirepresentation, Learning Outcome, Temperature, Heat, Model inkuiri terbimbing, Multirepresentasi, Hasil Belajar, Suhu, Kalor
Abstract
This research aims to develop the physics learning instrumentation equipment with the guided inquiry model and use multi-representation to increase students' learning, especially in temperature and heat sub-lessons. The advantage of this model is guiding the student through every step of the guided inquiry model. The type of this research is developing research to develop the learning instrumentation by using The Dick and Carey models, with one group pretest-posttest design. This research was conducted in the first level of junior high school of Sumberrejo) at second semester in 2021/2022. The collecting data technique of this research used observation and pretest-posttest. The data analyzing technique was analyzed by using quantitative and qualitative descriptive models. The results of this experiment were the effectiveness of learning equipment included an increase in student outcomes from Tryout II in every class test; the average score was 3.79, categorized as good, based on the student's activities observation result, which showed that students have been performing activities that should be done during the learning process; also, students' responses were positive. Based on the results, it can be concluded that physics learning with a guided inquiry model using multi-representation to increase students' learning outcome on materials temperature and heat was suitable to use so that it can be applied in learning.
References
Arikunto, S. (2010). Metode peneltian. Jakarta: Rineka Cipta.
Asfriani, F. K., Sapti, M., & Nugraheni, P. (2019). REPRESENTASI SISWA SMP DALAM MENYELESAIKAN MASALAH MATEMATIKA KONTEKSTUAL. PROSIDING SENDIKA, 5(1).
Bilgin, M. (2009). Geopolitics of European natural gas demand: Supplies from Russia, Caspian and the Middle East. Energy Policy, 37(11), 4482–4492.
Gronlund, J. (1982). Errors due to data reduction in single-breath method for measurement of pulmonary blood flow. Journal of Applied Physiology, 52(1), 104–108.
Hake, R. R. (2002). Relationship of individual student normalized learning gains in mechanics with gender, high-school physics, and pretest scores on mathematics and spatial visualization. Physics Education Research Conference, 8(1), 1–14.
Isa, A., & others. (2010). Keefektifan pembelajaran berbantuan multimedia menggunakan metode inkuiri terbimbing untuk meningkatkan minat dan pemahaman siswa. Jurnal Pendidikan Fisika Indonesia, 6(1).
Panggabean, J. H., & Sihotang, Y. F. (n.d.). PENGARUH MODEL PEMBELAJARAN INQUIRY TRAINING TERHADAP HASIL BELAJAR FISIKA SISWA. INPAFI (Inovasi Pembelajaran Fisika), 3(3).
Prahani, B. K., Soegimin, W. W., & Yuanita, L. (2017). Pengembangan Perangkat Pembelajaran Fisika Model Inkuiri Terbimbing untuk Melatihkan Kemampuan Multi Representasi Siswa SMA. JPPS (Jurnal Penelitian Pendidikan Sains), 4(2), 503–517.
Ratumanan, T. G., & Laurens, T. (2011). Penilaian hasil belajar pada tingkat satuan pendidikan. Surabaya: Unesa.
Rosengrant, D., van Heuvelen, A., & Etkina, E. (2006). Case study: Students' use of multiple representations in problem solving. AIP Conference Proceedings, 818(1), 49–52.
Siahaan, A., Nasution, I., & others. (2006). Manajemen pendidikan berbasis sekolah.
Sudarsana, I. K. (2018). Optimalisasi penggunaan teknologi dalam implementasi kurikulum di sekolah (persepektif teori konstruktivisme). Cetta: Jurnal Ilmu Pendidikan, 1(1), 8–15.
Umrotun, U. (2012). Peningkatan Kemampuan Pemahaman Konsep Optik Melalui Teknik Inkuiri Terbimbing Peserta Didik Kelas VIII Semester Genap Tahun Ajaran 2011/2012. Jurnal Penelitian Pembelajaran Fisika, 3(1).
William, W., & Hita, H. (2019). Mengukur Tingkat Pemahaman Pelatihan PowerPoint Menggunakan Quasi-Experiment One-Group Pretest-Posttest. Jurnal SIFO Mikroskil, 20(1), 71–80.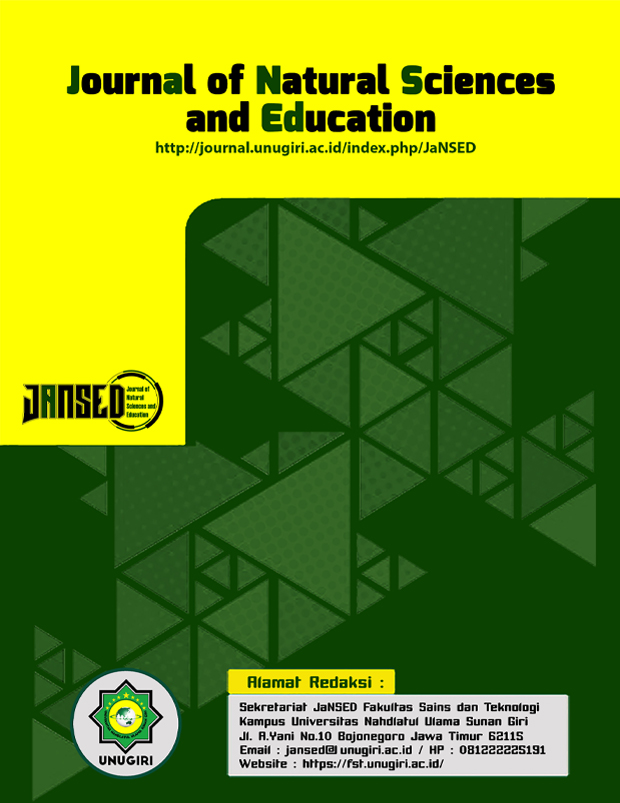 Downloads
How to Cite
Ardianti, A. D., & Haryono, H. E. (2023). Analisis Pembelajaran Model Inkuiri Terbimbing Menggunakan Multirepresentasi Untuk Meningkatkan Hasil Belajar . Journal of Natural Sciences and Education, 1(1), 1–6. Retrieved from https://journal.unugiri.ac.id/index.php/JaNSED/article/view/1422
License
Copyright (c) 2023 Journal of Natural Sciences and Education
This work is licensed under a Creative Commons Attribution-NonCommercial-ShareAlike 4.0 International License.
Authors who publish with this journal agree to the following terms:
Authors retain copyright and grant the journal right of first publication with the work simultaneously licensed under a Creative Commons Attribution License that allows others to share the work with an acknowledgment of the work's authorship and initial publication in this journal.
Authors can enter into separate, additional contractual arrangements for the non-exclusive distribution of the journal's published version of the work (e.g., post it to an institutional repository or publish it in a book), with an acknowledgment of its initial publication in this journal.
Authors are permitted and encouraged to post their work online (e.g., in institutional repositories or on their website) before and during the submission process, as it can lead to productive exchanges, as well as earlier and greater citation of published work

Abstract View: 25,

PDF Download: 10