INTERAKSI SOSIAL PENGAJIAN ONLINE KITAB TURATS DALAM MEMBENTUK JIWA KEAGAMAAN MASYARAKAT DI WILAYAH BOJONEGORO

Abstract View: 69,

PDF Download: 57
Keywords:
Social Interaction, Turots Book Recitation, Religious Spirit
Abstract
This paper reveals the dynamics of the social interaction of online recitation of the turots book in shaping the religious spirit of the community. In this online learning system, it turns out that it is still a magnet in itself in society, even with a wider reach; it can be followed by all levels of the santri community. In "Ngaji Online" it is handled by authoritative figures, so that it becomes a special attraction and will even increase enthusiasm in modern society as it is today. As a result, after attending the regular recitation of the Turots book, the community has a better change in behavior, including: commitment to religious orders and prohibitions, being active in religious activities, eager to study religious teachings, and religious teachings being used as a source of developing ideas, and tawadlu' in all fields
References
Ahmad Taufik, 2019, Agama Dalam Kehidupan Individu, Jurnal Edification Vol. 1, No. 01. Juni, 2019
Aminudin, 2016, Konsep Dasar Dakwah , Jurnal Al-Munzir Vol. 9, No. 1, Mei 2016, hal. 33
Arifin, 1997, Psikologi dan Beberapa Aspek Kehidupan Rohani Manusia, Yogyakarta: Bulan Bintang
Arifin, S., & Munfaridah, H. 2018, Pengembangan Desain Konseling Berbasis Pesantren dengan Pendekatan Service-Learning. Jurnal Bimbingan dan Konseling Islam, 08(02)
Arifin, S., & Zaini, A., 2018, Dakwah Inklusif di Kalangan Bajingan : Membedah Komitmen Bekas Bajingan dalam Membangun Peradaban Perspektif Psikologi Sosial. Jurnal Dakwah, XIX(1)
Dayun Riyadi, 2010, Psikologi Agama, Curup: LP2 STAIN Curup
Departemen Agama RI, 2015, Al-Qur?an dan Terjemahnya, Bandung: CV Darus Sunnah
Eko A. Meinarno dkk, 2011, Manusia dalam Kebudayaan dan Masyarakat, Jakarta:
Salemba Humanika
Hasbullah, 1994, Sejarah Pendidikan Islam Di Indonesia, Jakarta: PT Raja Grafindo Persada
Kemas Rezi Susanto, 2010, Sosiologi Agama, Curup: Lp2 STAIN Curup
Kustini, 2007, Majelis Taklim, Jakarta: Puslitbang Kehidupan Keagamaan Badan Litbang Dan Diklat Departemen Agama RI
Machendrawati Dkk, 2001, Pengembangan Masyarakat Islam Dari Ediologi Strategi Sampai Tradisi, Bandung: PT. Remaja Rosda Karya Offset
Meng, L., Hua, F., & Bian, Z. 2020. Coronavirus Disease 2019 (COVID-19): Emerging and Future Challenges for Dental and Oral Medicine. Journal of Dental Research, 2019
Nina Winangsih Syam, 2011, Psikologi Sebagai Akar Ilmu Komunikasi, Bandung: Simbiosa Rekatama Media
..........................., 2012, Sosiologi Sebagai Akar Ilmu Komunikasi, Bandung : PT Remaja Rosdakarya
Soerjono Soekanto, 2006, Sosiologi Komunikasi, Jakarta: PT Raja Grafindo Persada
Sunarto, Kamanto, 2004, Pengantar Sosiologi (edisi ketiga). Jakarta: Lembaga
Penerbit Fakultas Ekonomi, Universitas Indonesia
Takwin, B. 2020. Pesan dari Editor-in-Chief: Tantangan Psikologi Siber. Jurnal Psikologi Sosial, 18(01), 3?4. https://doi.org/10.7454/jps.2020
Yesmil Anwar, 2013, Sosiologi, Bandung: PT. Refika Aditama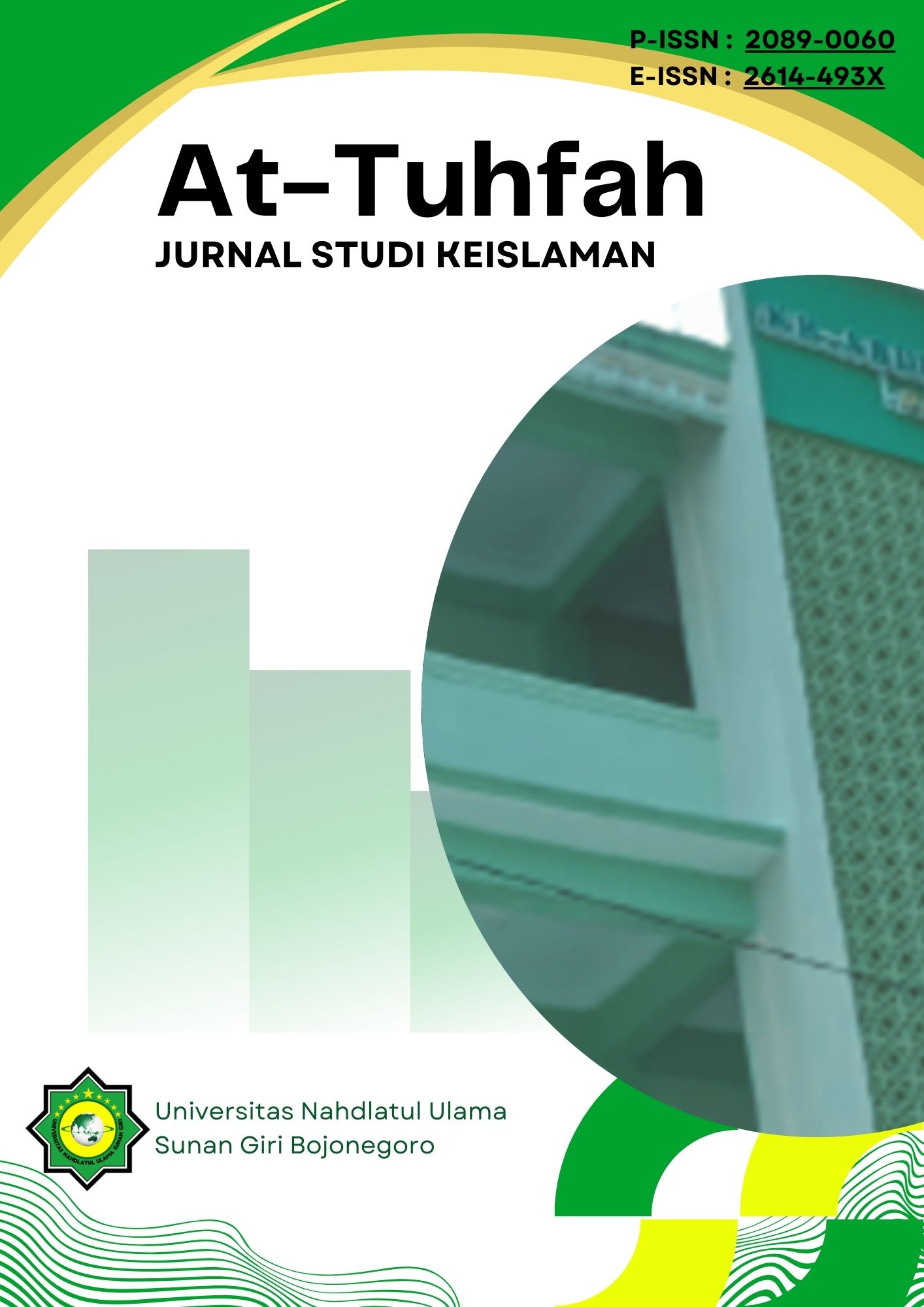 Downloads
How to Cite
Zaini Miftah, Z. M., Fahrurrozi, & Taseman. (2022). INTERAKSI SOSIAL PENGAJIAN ONLINE KITAB TURATS DALAM MEMBENTUK JIWA KEAGAMAAN MASYARAKAT DI WILAYAH BOJONEGORO. At-Tuhfah : Jurnal Studi Keislaman, 11(1), 1–26. Retrieved from https://journal.unugiri.ac.id/index.php/at-tuhfah/article/view/665
License
Copyright (c) 2022 AT-TUHFAH: JURNAL STUDI KEISLAMAN
This work is licensed under a Creative Commons Attribution-NonCommercial 4.0 International License.

Abstract View: 69,

PDF Download: 57