ZULKARNAIN PERSPEKTIF TAFSIR AL-QUR'AN DEPARTEMEN AGAMA RI ( KESEIMBANGAN AJARAN AGAMA DAN ILMU PENGETAHUAN )

Abstract View: 121,

PDF Download: 156
Keywords:
Zulkarnain, Interpretation al-Qur'an DEPAG RI, Religion, Science
Abstract
This study aims to analyze the history of Zulkarnain which the current generation needs to emulate because the figure of Zulkarnain can balance the teachings of religion and science. This study uses qualitative methods. There are two sources of data that will be used, namely primary data sources and secondary data sources. Primary data source, Interpretation of the Ministry of Religion of the Republic of Indonesia. and secondary data are books of thematic commentaries, tahlili interpretations and some literature on Zulkarnain's story, both from the perspective of commentators, philosophers, scientists and other scholars. The steps taken in this research are as follows. The first thing to do is to select a theme in the Qur'an (Zulkarnain's Story) then classify the background of the problem and the formulation of the problem. After that, collect the verses related to research (al-Kahf, juz 16 verses 83-99) and conduct a study of interpretation using the Tafsir of the Ministry of Religion of the Republic of Indonesia and other supporting literacy. The results of the study show that Zulkarnain is a pious figure in matters of hablu minallah, he has a humble nature, dares to carry out jihad, has high religious knowledge and is full of gratitude. In human relations, he has a fair, trustworthy, generous, giving and high knowledge nature.
References
Abqary, Ridwan. 101 Info Tentang Ilmuwan Muslim. Edited by Tim Konversi MDP. 01 ed. Bandung: PT Mizan Pustaka, 2010.
Al-Ashfahani, Ar-Raghib. Al-Mufradat Fi Gharibil Qur'an. Edited by Ruslan Nurhadi. 1st ed. Depok: Pustaka Khazanah Fawa'id, 2017.
Al-Qattan, Manna Khalil. Studi Ilmu-Ilmu Al-Qur'an. Bogor: Litera AntarNusa, 2016.
Aziz, Nor Asma Ab, and Muhd Norizan Jamian. "AKHLAK PEMIMPIN DALAM HIKAYAT ISKANDAR ZULKARNAIN : SATU ANALISIS PENDEKATAN ADAN." Melayu 15, no. 1 (2016).
Budiman, Mochammad Arif. PENDIDIKAN AGAMA ISLAM. 01 ed. Kalimantan: PT. Grafikan Wangi, 2015.
Hamid, Abdul. "AGAMA DAN KESEHATAN MENTAL DALAM PERSPEKTIF PSIKOLOGI AGAMA Abdul." Kesehatan Tadulako 3, no. 1 (2017): 1–84.
Igisani, Rithon. "Kajian Tafsir Mufassir Di Indonesia." Potret 22, no. 1 (2018): 11–31.
Nurroh, Syampadzi. "FILSAFAT ILMU." Universitas Gadjah Mada, 2017.
RI, Departemen Agama. Al-QUR'AN DAN TAFSIRNYA. 2nd ed. Jakarta: Perpustakaan Nasional RI, 2008.
Saputro, Agung Mugroho Catur. "PEMANFAATAN KISAH PENDIRIAN BENTENG BESI ISKANDAR ZULKARNAIN SEBAGAI SUMBER INSPIRASI DALAM PEMBELAJARAN KIMIA SMA/MA KONSEP SEL ELEKTROKIMIA DAN PEMBENTUKAN KARAKTER INSAN MULIA." In Seminar Nasional Pendidikan ISPI Jawa Tengah 2014, 44–52. Surakarta, 2014.
Sugiyono. Metode Penelitian Kuantitatif Kualitatif Dan R&D. Bandung: Penerbit Alfabeta, 2010.
Supriatna, Eman. "Islam Dan Ilmu Pengetahuan." Soshum Insentif 2, no. 1 (2019): 128–35.
Syarifah, Umaiyatus. "Manhaj Tafsir Dalam Memahami Ayat-Ayat Kisah Dalam Al-Quran." Ulul Albab 13, no. 2 (2010): 142–56.
Yunus, Mahmud. Kamus Arab Indonesia. Edited by Turaihan. Jakarta: PT. Mahmud Yunus Wa Dzurriyah, 2010.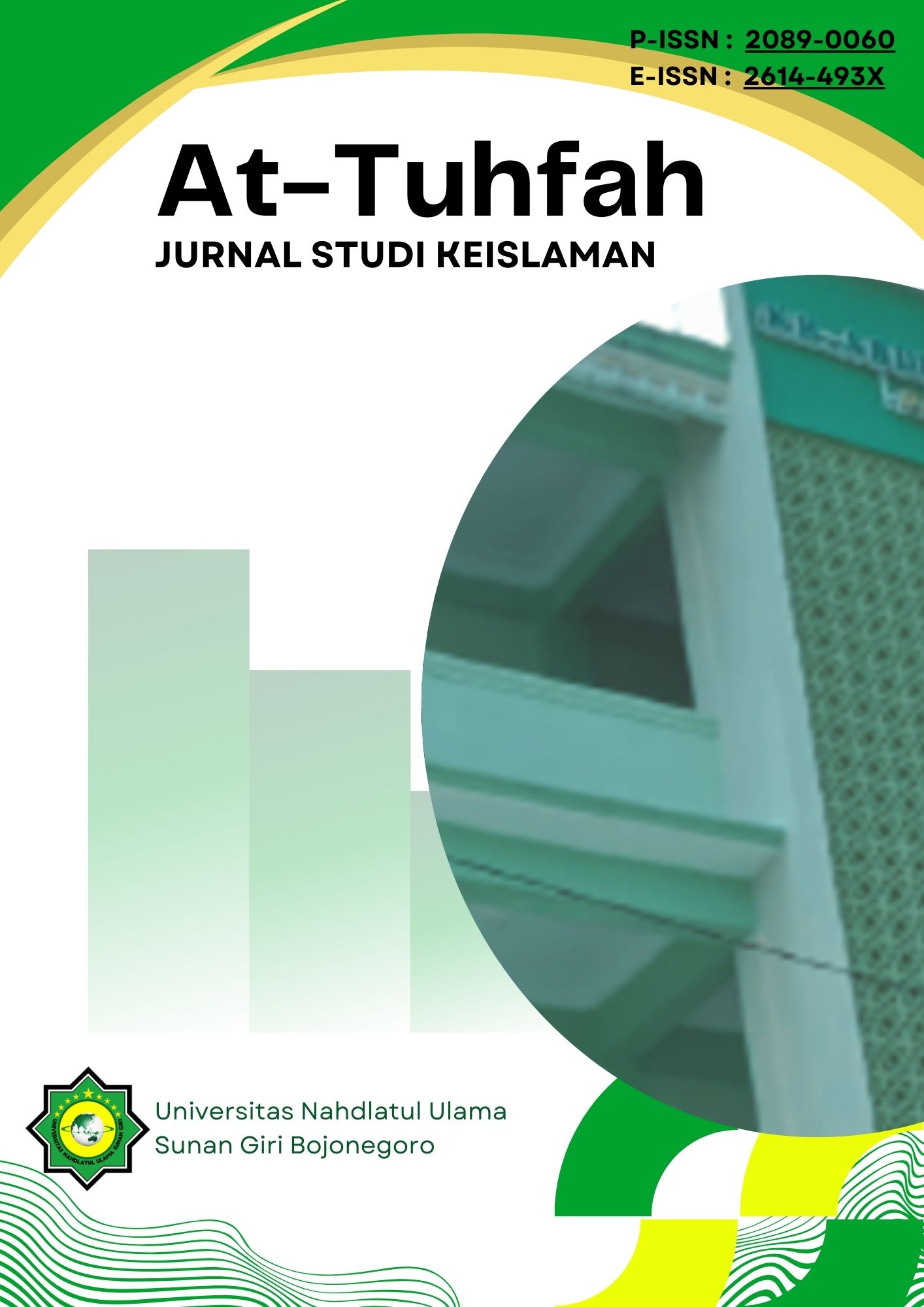 Downloads
How to Cite
Ihsan, W. (2022). ZULKARNAIN PERSPEKTIF TAFSIR AL-QUR'AN DEPARTEMEN AGAMA RI ( KESEIMBANGAN AJARAN AGAMA DAN ILMU PENGETAHUAN ). At-Tuhfah : Jurnal Studi Keislaman, 11(1), 79–92. Retrieved from https://journal.unugiri.ac.id/index.php/at-tuhfah/article/view/753
License
Copyright (c) 2022 At-Tuhfah : Jurnal Studi Keislaman
This work is licensed under a Creative Commons Attribution-NonCommercial 4.0 International License.

Abstract View: 121,

PDF Download: 156