STUDI KOMPARATIF : TEORI EDWARD LEE THORNDIKE DAN IMAM AL GHAZALI DALAM IMPLEMENTASINYA DI PEMBELAJARAN ANAK USIA DINI
Keywords:
Early Childhood Learning Theory; , Trial and Error; , Morals;
Abstract
Learning is not just a process of transferring knowledge (transfer of knowledge), but also a transformation or transformation; be it knowledge, skills, and values. There are several learning theories that have been coined by figures from both the West and Islam to realize effective learning. Edward Lee Thorndike's learning theory emphasizes more on learning events that can be accepted by reason and can be proven through the five senses (rational-empirical). While the learning theory promoted by Al Ghazali not only pays attention to rational-empirical learning events, but also pays attention to normative-qualitative ones. The trial and error learning process is carried out by providing a stimulus to get a response that is expected to be used to provide motivation for early childhood learning. In addition, so that it is not just mechanistic considering that children are not robots that do not have feelings, children must also be equipped with religious values ​​that can provide motivation from within the child itself. Because the task of educators is to help children develop all the potential they have until they reach maturity, which will be formulated by educators, both methods and materials must refer to children, namely on aspects of their development which are always based on moral formation.
References
Al Ghazali, Abu Hamid Muhammad. 2018. Ayyuhal Walad, terj. Ahmad Fahmi bin Zamzam. (Kedah: Khazanah Banjariah Maahad Tarbiah Islamiah.
Anwar, Chairul. 2017. Buku Terlengkap Teori-teori Pendidikan Klasik hingga Kontemporer. Yogyakarta: IRCiSoD.
Hanapi. 2017. Konsep Pendidikan Menurut Imam Al-Ghazali. El-Hikam: Jurnal Pendidikan dan Kajian Keislaman. Vol. X. No. 1.
Hermansyah. 2020. Analisis Teori Behavioristik (Edward Thorndike) dan Implementasinya dalam Pembelajaran SD/MI. Modeling: Jurnal Program Studi PGMI. Vol. 7. No. 1.
Kurniawan, Syamsul. 2017. Pendidikan Karakter dalam Islam, Pemikiran Al Ghazali tentang Pendidikan Karakter Anak Bebasis Akhlaq al-Karimah. Tadrib. Vol. 3. No. 2.
Makki, Ali. 2019. Mengenal Sosok Edward Lee Thorndike Aliran Fungsionalisme dalam Teori Belajar. Pancawahana: Jurnal Studi Islam. Vol. 14. No.1.
Mulyono. 2012. Strategi Pembelajaran Menuju Efektivitas Pembelajaran di Abad Global. Malang: UIN Maliki Press,.
Muslih, Mohammad. 2018. Rekontsruksi Nalar Keagamaan; Ikhtiar Menemukan Konteks Agama Bagi Pengembangan Sains. Jurnal Afkaruna. Vol. 14. No. 2.
Nahar, Novi Irwan. 2016. Penerapan Teori Belajar Behavioristik dalam Proses Pembelajaran. Nusantara: Jurnal Ilmu Pengetahuan Sosial, Vol. 1.
Pane, Aprida dan Muhammad Darwis Dasopang. (Desember 2017). Belajar dan Pembelajaran. Fitrah: Jurnal Kajian Ilmu-ilmu Keislaman, Vol. 03, No. 2.
Putra, Ary Antony. 2016. Konsep Pendidikan Agama Islam Perspektif Imam Al-Ghazali. Al-Thariqah. Vol. 1. No. 1.
Rufaedah, Evi Aeni. 2018. Teori Belajar Behavioristik Menurut Perspektif Islam. Risalah Jurnal Pendidikan dan Studi Islam. Vol. 4. No. 1.
Rusuli, Izzatur. 2014. Refleksi Teori Belajar Behavioristik dalam Perspektif Islam. Jurnal Pencerahan. Vol. 8. No. 1.
Safira, Itsna dan Mizan Khairusani. 2020. Teori Ta'dib Syed Muhammad Naquib al-Attas dan Relevansinya dalam Pendidikan Karakter Islam Kontemporer. Jurnal Pendidikan: Riset dan Konseptual. Vol. 4. No. 4.
Safroni, Ladzi. 2013. Al-Ghazali Berbicara tentang Pendidikan. Yogyakarta: Aditya Media Publishing.
Suryadarma, Yoke dan Ahmad Hifdzil Haq. 2015. Pendidikan Anak Menurut Imam Al Ghazali. At-Ta'dib. Vol. 10. No. 2.
Thoifuri. 2013. Menjadi Guru Inisiator. Semarang: Media Campus Publishing.
Yuliana, Elfa dan Reza Wahyu Al-Hadi Abror. 2019. Komparasi Pemikiran Al-Ghazali dan John Locke Pespektif Pendidikan Islam dan Barat. Tarbawi. Vol. 4. No. 1.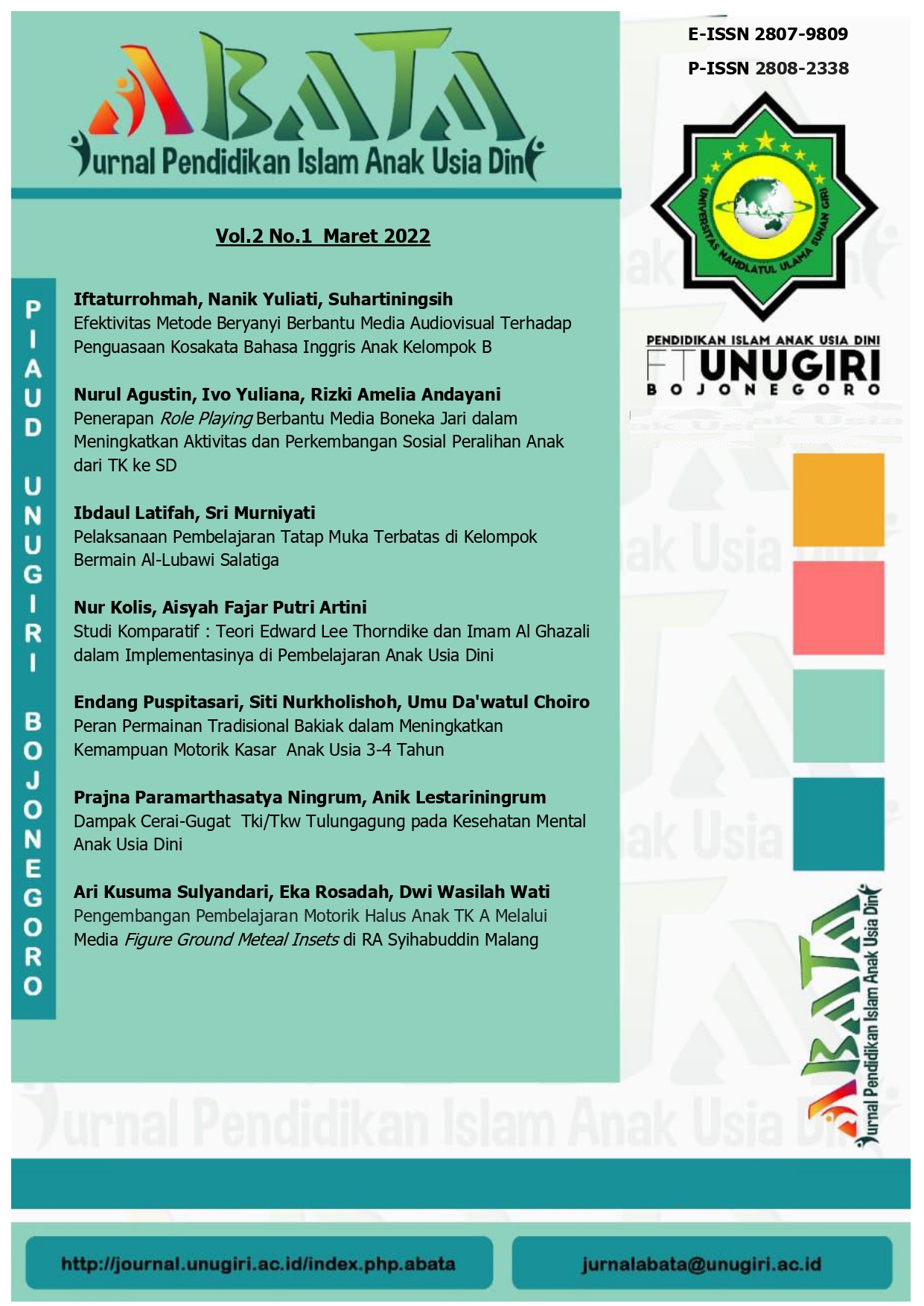 Downloads
How to Cite
Kolis, N., & Fajar Putri Artini , A. . . (2022). STUDI KOMPARATIF : TEORI EDWARD LEE THORNDIKE DAN IMAM AL GHAZALI DALAM IMPLEMENTASINYA DI PEMBELAJARAN ANAK USIA DINI . Abata : Jurnal Pendidikan Islam Anak Usia Dini, 2(1), 128–141. https://doi.org/10.32665/abata.v2i1.339
License
Copyright (c) 2022 Abata : Jurnal Pendidikan Islam Anak Usia Dini
This work is licensed under a Creative Commons Attribution 4.0 International License.