About the Journal
ABATA : Jurnal Pendidikan Islam Anak Usia Dini is a journal dedicated to the publication of quality research results in the field of early childhood education and child development.
ABATA : Jurnal Pendidikan Islam Anak Usia Dini has a scope including the development of aspects of child development, parenting, early childhood education management institutions, assessment of early childhood development, child development psychology, learning strategies, playing educational tools, learning media, and various fields related to early childhood education.


Current Issue
Vol. 3 No. 1 (2023): Maret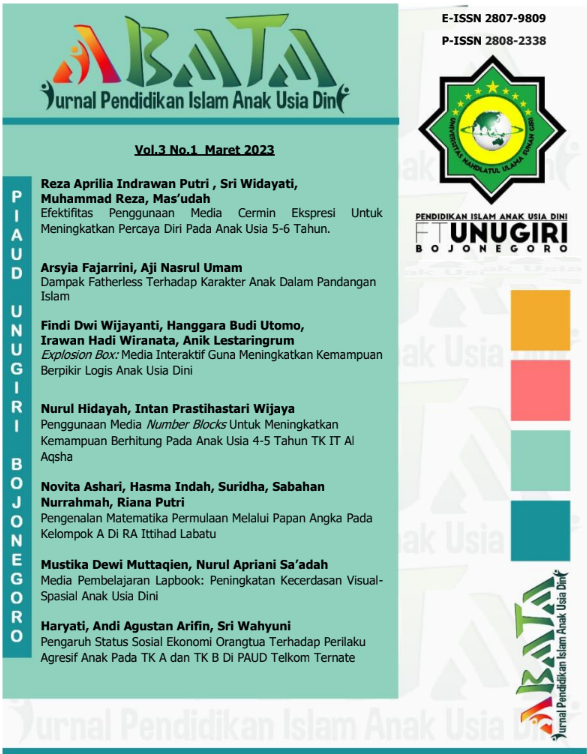 Jurnal title  : ABATA: Jurnal Pendidikan Islam Anak Usia Dini


  Frequency: Vol. 3 No. 1 (2023): Maret

DOI:10.32665/abata


E-ISSN:2807-9809


P-ISSN:2808-2338
View All Issues
FOR ONLINE SUBMISSION
Already have a Username/Password for ABATA >> GO TO LOGIN
or Need a Username / Password? >> GO TO REGISTRATION
OUR TIMELINE AND JOURNAL PUBLICATION
Do you want to look our latest publication >> CURRENT
or See all our publication >> ARCHIVES
If you have some problem or questions, don't hesistant >> CONTACT US
For quick response please send text to This Contact  Please mention your Subject: Your Name and what kind of your problem with our Online Submission system. Our team will reply to all your questions or problems related to our Journals as soon as possible or at least 24 hours after you send the message. Thank you for your patience.
ABATA indexed by