PENGEMBANGAN PEMBELAJARAN MOTORIK HALUS ANAK TK A MELALUI MEDIA FIGURE GROUND METEAL INSETS DI RA SYIHABUDDIN MALANG
Keywords:
Fine Motor,, Early childhood,, Media Figure Ground Metal insert .
Abstract
The purpose of this study is to help the development of children's early writing with the media figure ground metal insets. This research was conducted at RA Syihabuddin Malang. The small trial of the media was carried out with 6 grade A children and the large trial was carried out involving 35 grade A children. This research method used Barg and Gall's development research with 10 steps, but in this study only 7 steps were used. Media figure ground metal insets is a media owned by Montessori, how to use it is 1) removing the center of the media, 2) drawing according to the shape of the media, 3) shading the image. The data obtained from this research are in the form of safety, fun and easy to do. The results of this study about media security as much as 100%, ease of use of media 93.3% and 100% pleasure level after going through various trials and media evaluations. This learning development deserves to be developed because the percentage is high and is declared good and feasible. Children's early writing ability is also stimulated through the development of ground metal insets figure media.
References
Afirianto, T., Wardhono, W. S., Pelealu, B. N., & Akbar, M. A. 2021. Media Pembelajaran Calistung Hewan Berteknologi Augmented Reality untuk Menarik Minat Belajar Anak. Jurnal Teknologi Informasi dan Ilmu Komputer, 8(2), 381. https://doi.org/10.25126/jtiik.2021824510
Beaty, J.J. 1996. Skills for Preschool Teachers. New Jersey: Prentice-Hall.
Ds, Ahmad. 2000. Permainan Membaca dan Menulis Di Taman Kanak-Kanak. Jakarta: Departemen Pendidikan Nasional.
Faber Taylor, A., & Kuo, F. E. 2009. Children with attention deficits concentrate better after walk in the park. Journal of Attention Disorders, 12(5), 402–409. https://doi.org/10.1177/1087054708323000
Hasan, Maimunah, 2012. Pendidikan Anak Usia Dini. Jogjakarta: Diva Press
Kartini, Novalia. 2013. Penerapan Model Pembelajaran Numbered of Head Judul Toghether "Kepala Bernomor" untuk Meningkatkan Kemampuan Kognitif Anak Kelompok B di TK ABA 24 Malang. Jurnal Ilmiah PAUD, 1 (1): halaman 26
Lynch, M. 2015. More Play, Please The Perspective of Kindergarten Teachers on Play in the Classroom @BULLET. American Journal of Play, 7(3), 347–370.
Montesori, Maria. Tanpa Tahun. Metode Montesori. Terjemah Gutex, Gerald
Mulyasa, H.E. 2012. Manajemen PAUD Bandung: PT Remaja Rosdakarya
Ojigho, E. J., & Odokuma, I. E. 2019. Pencil Grip Patterns of Students and Skilled Workers. Journal of College of Medical Sciences-Nepal, 15(1), 53–58. https://doi.org/10.3126/jcmsn.v15i1.19286
Santrock, John W. (1997). Life-Span Development. Terjemah Widyasinta, Benedictine. 2012. Jakarta: Erlangga
Sulyandari, Ari Kusuma. 2016. Representasi simbol matematika dalam aktivitas bermain pada anak TK. http://repository.um.ac.id/63035/ (online) diakses tanggal 4 Februari 2022
Sujiono Yuliana Nurani. 2009. Konsep Dasar Anak Usia Dini. Jakarta: Indeks. Jakarta
Zhao, P., Li, S., Zhao, J., Gaspar, C. M., & Weng, X. 2015. Training by visual identification and writing leads to different visual word expertise N170 effects in preliterate Chinese children. Developmental Cognitive Neuroscience, 15, 106–116. https://doi.org/10.1016/j.dcn.2015.09.002
Wididjoto, Heru. 2008. Penelitian Pengembangan. Jakarta: Depdiknas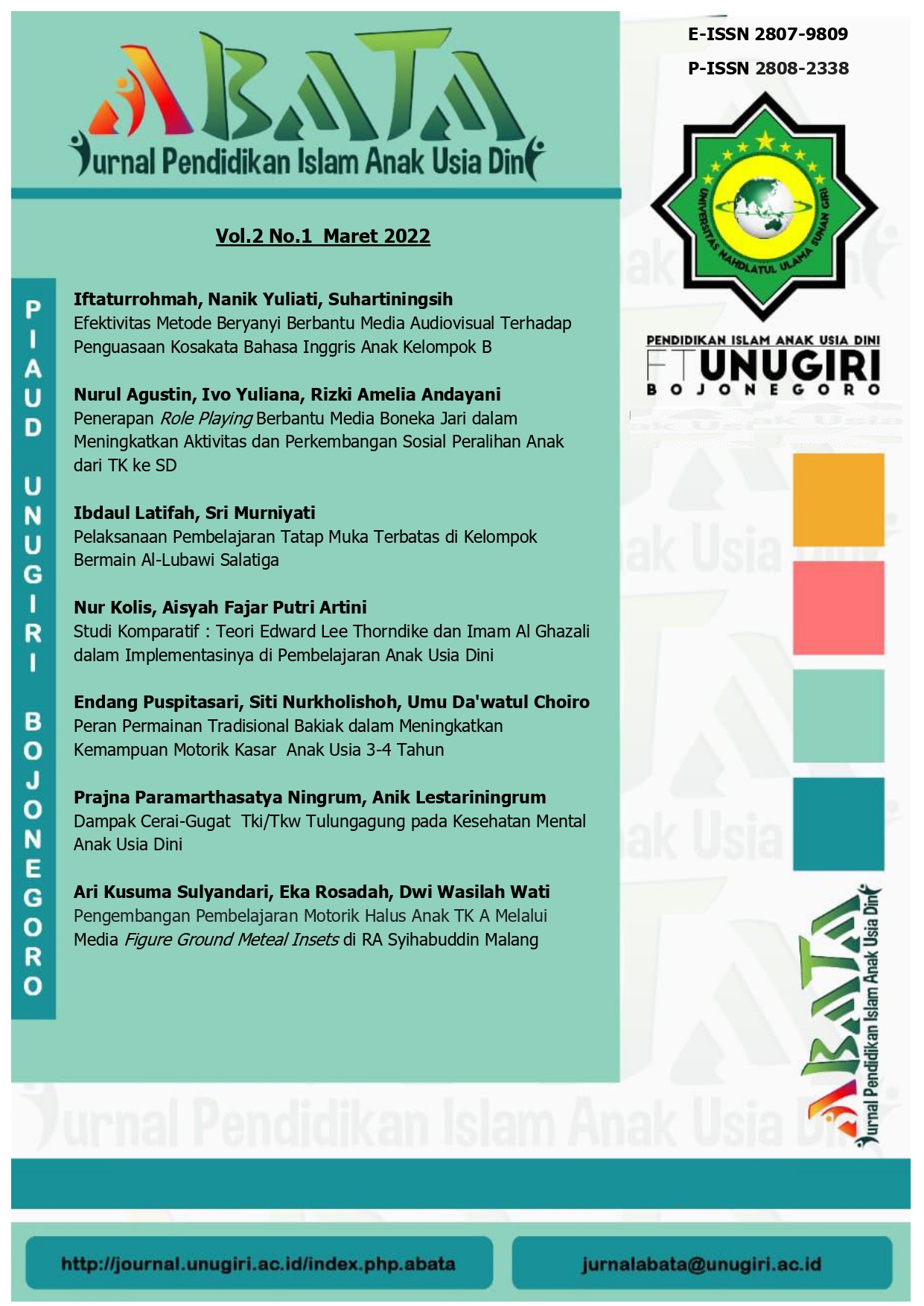 Downloads
How to Cite
Kusuma Sulyandari, A., Rosadah, E., & Wasilah Wati, D. (2022). PENGEMBANGAN PEMBELAJARAN MOTORIK HALUS ANAK TK A MELALUI MEDIA FIGURE GROUND METEAL INSETS DI RA SYIHABUDDIN MALANG. Abata : Jurnal Pendidikan Islam Anak Usia Dini, 2(1), 163–173. https://doi.org/10.32665/abata.v2i1.353
License
Copyright (c) 2022 Abata : Jurnal Pendidikan Islam Anak Usia Dini
This work is licensed under a Creative Commons Attribution 4.0 International License.