CONFIRMATORY FACTOR ANALYSIS UNTUK MENGUKUR PERTUMBUHAN PENDUDUK DI KABUPATEN BOJONEGORO
Keywords:
CFA, Pertumbuhan Penduduk, Bojonegoro, Population Growth
Abstract
Population growth is closely related to the addition and or reduction of the population in a specific area. Many factors influence population growth in an area, including births, deaths, and population movements. The development of the population of Bojonegoro Regency until 2020 has increased every year. The population development in Bojonegoro Regency has increased by 0.96 percent, which is thought to be caused by births, migration, and economic growth. In this study, to measure population growth in Bojonegoro Regency, this study conducted confirmation or testing to determine how well the measured variables represented the factors formed using the confirmatory factor analysis (CFA) method. The results showed that the characteristics of population growth in the Bojonegoro Regency were influenced by three latent variables, including fertility, mortality, and migration. In contrast, the most dominant variables in influencing population growth were total births, live birth rates, female child ratio, and life expectancy: infant mortality rates, under-five mortality rates, out-migration, and gross migration.
Abstrak
Pertumbuhan penduduk erat kaitanya dengan penambahan dan atau pengurangan jumlah penduduk di suatu wilayah tertentu. Banyak factor yang mempengaruhi pertumbuhan penduduk di suatu wilayah diantaranya kelahiran, kematian dan perpindahan penduduk. Perkembangan jumlah penduduk Kabupaten Bojonegoro hingga tahun 2020 mengalami kenaikan setiap tahun. Perkembangan penduduk di Kabupaten Bojonegoro mengalami pertambahan sebesar 0,96 persen yang diduga disebabkan oleh kelahiran, migrasi dan pertumbuhan ekonomi. Untuk mengukur pertumbuhan penduduk di Kabupaten Bojonegoro, pada penelitian ini dilakukan konfirmasi atau pengujian untuk mengetahui seberapa baik variabel yang telah diukur dapat mewakili faktor yang terbentuk menggunakan metode confirmatory factor analysis (CFA). Hasil penelitian menunjukkan bahwa pada karakteristik pertumbuhan penduduk di Kabupaten Bojonegoro dipengaruhi oleh tiga variabel laten diantaranya yaitu fertilitas, mortalitas, dan migrasi, sementara variabel yang paling dominan dalam mempengaruhi pertumbuhan penduduk adalah jumlah kelahiran total, angka lahir hidup, rasio anak wanita, angka harapan hidup, angka kematian bayi, angka angka kematian balita, migrasi keluar, dan migrasi bruto.
References
Prawiro, Ruslan, H. Kependudukan, Teori, Fakta dan Masalah, Penerbit Liberty, Yogyakarta. (2000).
Hasibuan, M.S.P. Ekonomi Pembangunan dan Pembangunan Indonesia. CV. Armico, Bandung. (2002).
BPS Kabupaten Bojonegoro. Kabupaten Bojonegoro Dalam Angka Tahun 2018. Bojonegoro: BPS Kabupaten Bojonegoro. (2018).
Brown, A. T. Confirmatory Factor Analysis for Applied Research. New York: The Guilford Press. (2006).
William, Jr., C. Black, Barry J. Ba Joseph F. Hair. Multivariate Data Analysis- Pearson Education Limited. (2013)
Dinas Kesehatan Bojonegoro. Profil Kesehatan Kabupaten Bojonegoro Dalam Angka Tahun 2018. Bojonegoro: Dinas Kesehatan Kabupaten Bojonegoro. (2018).
Lee, S. Y. Structural Equation Modeling A Bayesian Approach. John Wiley & Sons, Ltd. (2007).
Mardia, K. V. Applications of some measure of multivariate skewness and kurtosis in testing normality and robustness studies. Sankhya, Series B, 36 , 115-128. (1974).
Khine, M. S., Centre, S. a., & Curtin University, P. A. Application Of Structural Equation Modeling In Educational Research And Practice. Netherlands: Sense Publishers. (2013).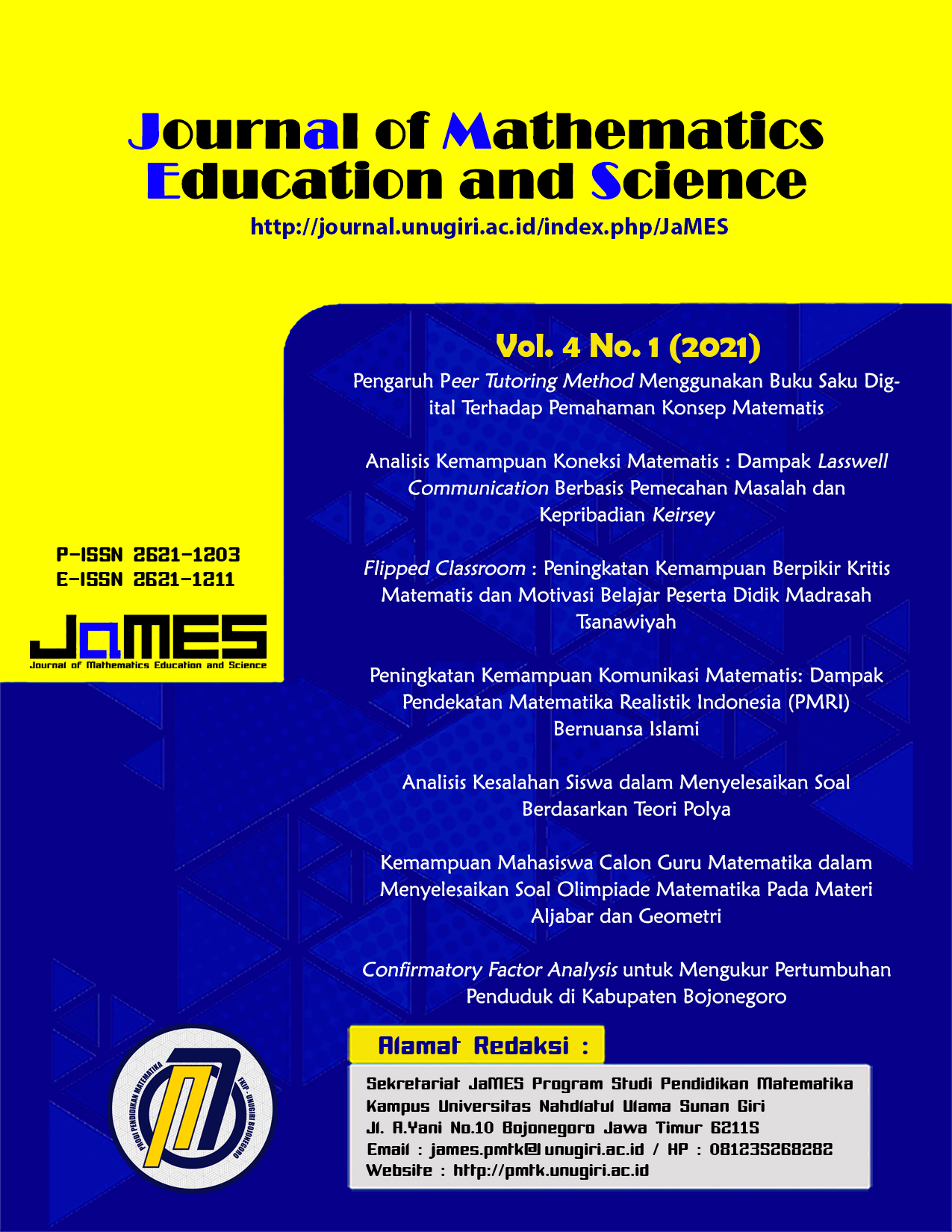 Downloads
How to Cite
[1]
M. N. Faizin and A. Y. Kartini, "CONFIRMATORY FACTOR ANALYSIS UNTUK MENGUKUR PERTUMBUHAN PENDUDUK DI KABUPATEN BOJONEGORO", JaMES, vol. 4, no. 1, pp. 41–50, Apr. 2021.
License
Copyright (c) 2021 Journal of Mathematics Education and Science
This work is licensed under a Creative Commons Attribution-NonCommercial-ShareAlike 4.0 International License.
Authors who publish with this journal agree to the following terms:
Authors retain copyright and grant the journal right of first publication with the work simultaneously licensed under a Creative Commons Attribution License that allows others to share the work with an acknowledgment of the work's authorship and initial publication in this journal.
Authors are able to enter into separate, additional contractual arrangements for the non-exclusive distribution of the journal's published version of the work (e.g., post it to an institutional repository or publish it in a book), with an acknowledgment of its initial publication in this journal.
Authors are permitted and encouraged to post their work online (e.g., in institutional repositories or on their website) prior to and during the submission process, as it can lead to productive exchanges, as well as earlier and greater citation of published work