Analisis Proses Pembelajaran Daring pada Mata Pelajaran IPA Materi Energi dan Perubahannya melalui Pendekatan Saintifik Kelas IV di MI Miftahul Ulum Bago Pasirian
Keywords:
Analysis of Online Learning, Science Subjects, Scientific Approach
Abstract
The Coronavirus Disease (Covid-19) virus is increasingly rampant and has caused several sectors to close including the education sector. Spontaneously, Indonesia issued a policy to implement online learning from home so that the educational process continues even though schools are closed. The use of online learning media is an alternative choice so that learning activities can continue. This study aims to analyze the online learning process in the science subject matter of Energy and its Changes through a scientific approach at the fourth grade level at MI Miftahul Ulum Bago Pasirian. With the current situation and conditions, online learning must also be able to require students to remain active during the activity so that this of course must pay attention to a student-centered learning system. The process of this approach is then used and is called the scientific approach. This type of research uses qualitative research using descriptive analysis. This research was conducted by observing and interviewing several related schools. The results of the study will explain or explain how the online learning process in science subjects with energy material and its changes through the fourth grade scientific approach at the Institute.
References
Anggraini, Dwi Rahma. 2018. Pengembangan E-Modul Materi Energi dan Perubahannya
dengan Pendekatan Saintifik Kelas IV SD/MI. Skripsi. Universitas Islam Negeri Raden Intan Lampung
Fajaria, Siti. 2016. Penggunaan Media Video untuk Meningkatkan Minat Belajar IPA
Kelas IV SD Negeri Bakalan. Jurnal Pendidikan Guru Sekolah Dasar Edisi 7 Tahun ke-5 2016.
Karman, Muhammad. 2020. Implementasi Pendekatan Saintifik pada Pembelajaran
PPKn Era Daring di MAN Kota Batu. Skripsi. Universitas Muhammadiyah Malang
El Iq Bali, Muhammad Mushfi. 2019. "Implementasi Media Pembelajaran Berbasis Teknologi Informasi dan Komunikasi dalam Distance Learning." Tarbiyatuna : Kajian Pendidikan Islam 3(1):29. doi: 10.29062/tarbiyatuna.v3i1.198.
Muali, Chusnul, Syaiful Islam, Mushfi El Iq Bali, Hefniy, Hasan Baharun, Akmal Mundiri, Moh. Jasri, and Ahmad Fauzi. 2018. "Free Online Learning Based On Rich Internet Applications; The Experimentation Of Critical Thinking About Student Learning Style." Journal of Physics: Conference Series 1114:012024. doi: 10.1088/1742-6596/1114/1/012024.
Mustafa, Pinton Setya, and M. E. Winarno. 2020. "PENERAPAN PENDEKATAN SAINTIFIK DALAM AKTIVITAS BELAJAR PENDIDIKAN JASMANI, OLAHRAGA, DAN KESEHATAN DI SMK NEGERI 4 MALANG." 7(2):15.
Patimah, Siti, Dyah Lyesmaya, and Luthfi Hamdani Maula. 2020. "ANALISIS AKTIVITAS PEMBELAJARAN MATEMATIKA PADA MATERI PECAHAN CAMPURAN BERBASIS DARING (MELALUI APLIKASI WHATSAPP) DI MASA PANDEMI COVID-19 PADA SISWA KELAS 4 SDN PAKUJAJAR CBM." 5:8.
Pawicara, Ruci, and Maharani Conilie. 2020. "Analisis Pembelajaran Daring terhadap Kejenuhan Belajar Mahasiswa Tadris Biologi IAIN Jember di Tengah Pandemi Covid-19." ALVEOLI: Jurnal Pendidikan Biologi 1(1):29–38. doi: 10.35719/alveoli.v1i1.7.
Prilianti, Ratna. 2018. Analisis Muatan IPA Materi Pokok Sumber Energi pada Buku Teks
Pelajaran Tematik Terpadu MI Kelas IV Tema 2. Diklat Kegamaan Semarang
Septantiningtyas, Niken. 2018. "Pengaruh Pembelajaran Jarak Jauh Dengan Aplikasi Google Class Terhadap Hasil Belajar Mahasiswa." EDURELIGIA; JURNAL PENDIDIKAN AGAMA ISLAM 2(2):131–35. doi: 10.33650/edureligia.v2i2.714.
Septantiningtyas, Niken, Nadiya Rosmila, and Warda Maghfiroh Husein. 2021. "IMPLEMENTASI APLIKASI EDMODO SEBAGAI EFEKTIVITAS PEMBELAJARAN AL-QURAN HADITS PADA MASA PANDEMI COVID-19 DI MI AZZAINIYAH II GRINTING PAITON PROBOLINGGO." 5(1):11.
Sugiyono. 2008. Metode Penelitian Kualitatif. Bandung : Alfabeta
Suttrisno, S. Analisis Dampak Pembelajaran Daring terhadap Motivasi Belajar Siswa Madrasah Ibtidaiyah. Jurnal Riset Madrasah Ibtidaiyah, 1(1), 348380.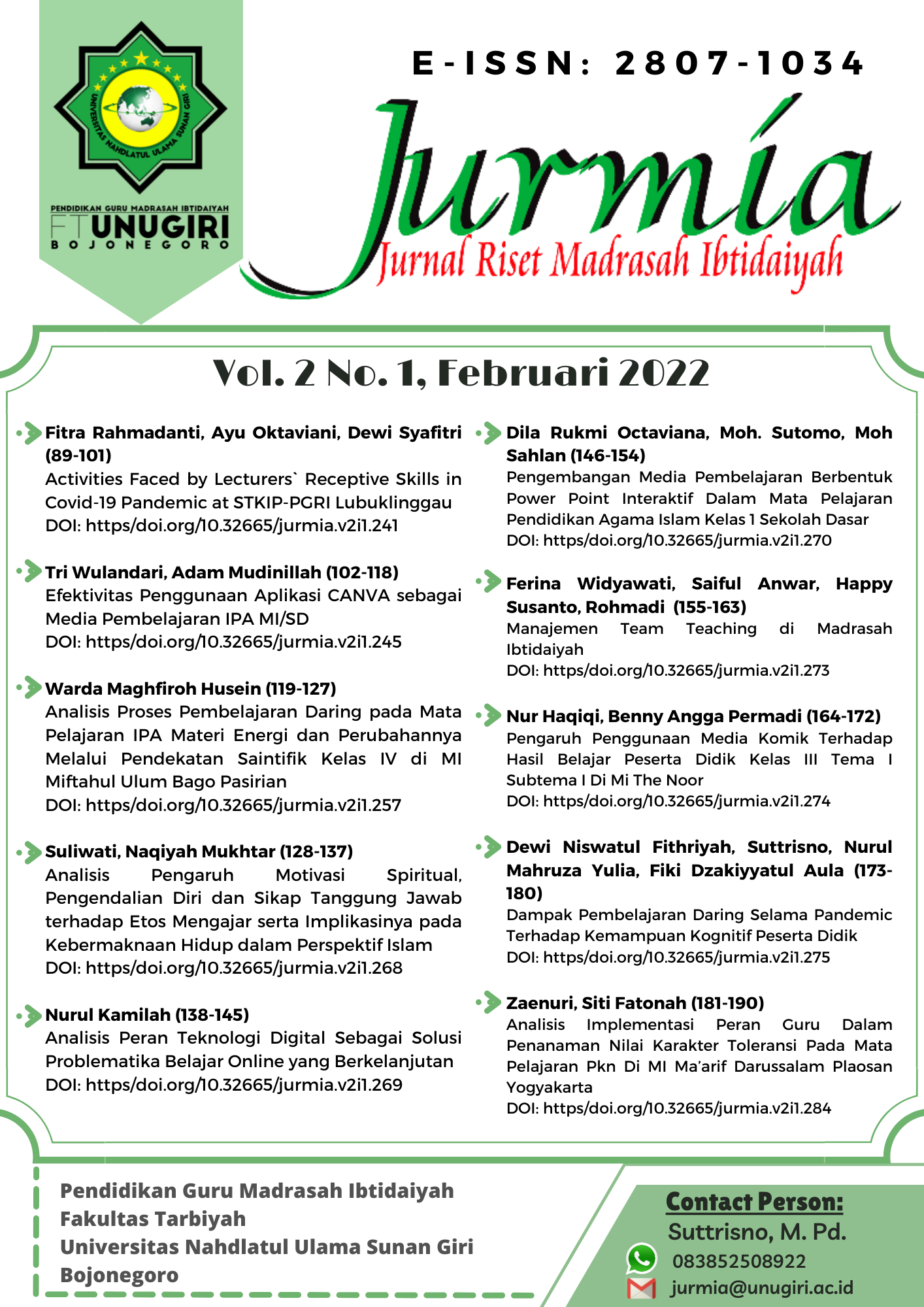 Downloads
How to Cite
Maghfiroh, W. (2022). Analisis Proses Pembelajaran Daring pada Mata Pelajaran IPA Materi Energi dan Perubahannya melalui Pendekatan Saintifik Kelas IV di MI Miftahul Ulum Bago Pasirian. Jurnal Riset Madrasah Ibtidaiyah (JURMIA), 2(1), 119–127. https://doi.org/10.32665/jurmia.v2i1.257
License
Copyright (c) 2021 Jurnal Riset Madrasah Ibtidaiyah (JURMIA)
This work is licensed under a Creative Commons Attribution 4.0 International License.