Pengaruh Penggunaan Media Komik Terhadap Hasil Belajar Peserta Didik Kelas III Tema I Subtema I Di Mi The Noor
Keywords:
Comic Media, Learning Outcomes, Comic
Abstract
The teaching and learning process carried out by teachers at MI The Noor school, especially in the use of learning media is still very lacking, this is evidenced by the learning outcomes of students who are still much below the KKM, besides that when the teaching and learning process is carried out, students are less enthusiastic in participating in lessons, This is very influential on the understanding of students, resulting in less achievement of the desired learning. Therefore, in the learning process, one must be able to choose the right media, comic media is very suitable for use in learning, because comics media can arouse the enthusiasm of students in the learning process, and also the material delivered with comic media is very clear and simple so that it will affect the learning process. student learning outcomes. This study aims to determine the effect of using comics media on the learning outcomes of third-grade students, Theme I, Sub-theme I. The research design is One Group Pretest Posttest. The study population consisted of 88 students in classes I, II, III, IV, V, VI and 16 students in class III as samples. The results of data analysis using the Paired sample t-test test obtained the value of Sig. (2-tailed) of 0.000, which means that the test results obtained a value smaller than 0.05, so it can be concluded that there is an influence in the use of comic media on student learning outcomes.
References
Ahmad, Susanto. n.d. "Teori Belajar Dan Pembelajaran Di Sekolah Dasar - Dr. Ahmad Susanto, M.Pd. - Google Buku." Retrieved January 19, 2022 (https://books.google.co.id/books/about/Teori_Belajar_dan_Pembelajaran_di_Sekola.html?hl=id&id=IeVNDwAAQBAJ&redir_esc=y).
Ainun, Elok. 2021."Hasil Wawancara."
Amreta, M. Y., & Safa'ah, A. (2021). Pengaruh Media PAPINKA terhadap Kemampuan Menghitung Penjumlahan dan Pengurangan dalam Pembelajaran Matematika di Sekolah Dasar. Jurnal Riset Madrasah Ibtidaiyah (JURMIA), 1(1), 21-28.
Anon. n.d. "View of Upaya Meningkatkan Motivasi Dan Hasil Belajar Melalui Problem Based Learning Dengan Powerpoint Di Sekolah Dasar." Retrieved January 18, 2022 (http://journal.unugiri.ac.id/index.php/jurmia/article/view/203/132).
Limbong, W. S., and Pasti Rosion Natalia Hutabarat. 2021. "PENGARUH PENGGUNAAN MEDIA KOMIK TERHADAP HASIL BELAJAR SISWA PADA PELAJARAN IPA MATERI PERISTIWA ALAM DI KELAS II A SD SWASTA PERKUMPULAN AMAL BAKTI (PAB) 15 KELAMBIR LIMA T.A 2018/2019." Undefined. doi: 10.36294/PIONIR.V7I1.1868.
Nasikhah, Durotun. 2019. "Skripsi Pengaruh Penggunaan Media Komik Terhadap Minat Belajar Peserta Didik Mata Pelajaran Fikih Kelas III Di MI Nasrul Fajar Meteseh Kota Semarang."
Nurmawati, Nurmawati. 2016. "Evaluasi Pendidikan Islam."
Riyana, C., and K. RI. 2012. "Media Pembelajaran." 232.
Sadiman, Arief. 2009. Media Pendidikan, Pengertian, Pengembangan Dan Pemanfaatannya. Jakarta: PT. Rajagrafindo Persada.
Sudjana, Nana, and Ahmad Rifa'i. 2013. PENGEMBANGAN MEDIA PEMBELAJARAN - Google Books. Bandung: Sinar Baru.
Sumantri, Mohammad Syarif. 2015. Strategi Pembelajaran Teori Dan Praktik Ditingkat Pendidikan Dasar. jakarta: rajawali pers.
Suttrisno, Suttrisno. 2021. "PENGARUH PEMANFAATAN ALAT PERAGA IPS TERHADAP KINERJA GURU SEKOLAH DASAR." Jurnal Ilmiah Pendidikan Dasar 8(1):77–90. doi: 10.30659/PENDAS.8.1.77-90.
Suttrisno, S. Analisis Dampak Pembelajaran Daring terhadap Motivasi Belajar Siswa Madrasah Ibtidaiyah. Jurnal Riset Madrasah Ibtidaiyah, 1(1), 348380.
UUD RI RI No. 41. 1999. "Presiden Republik Indonesia." Peraturan Pemerintah Republik Indonesia Nomor 26 Tahun 1985 Tentang Jalan 2003(1):1–5.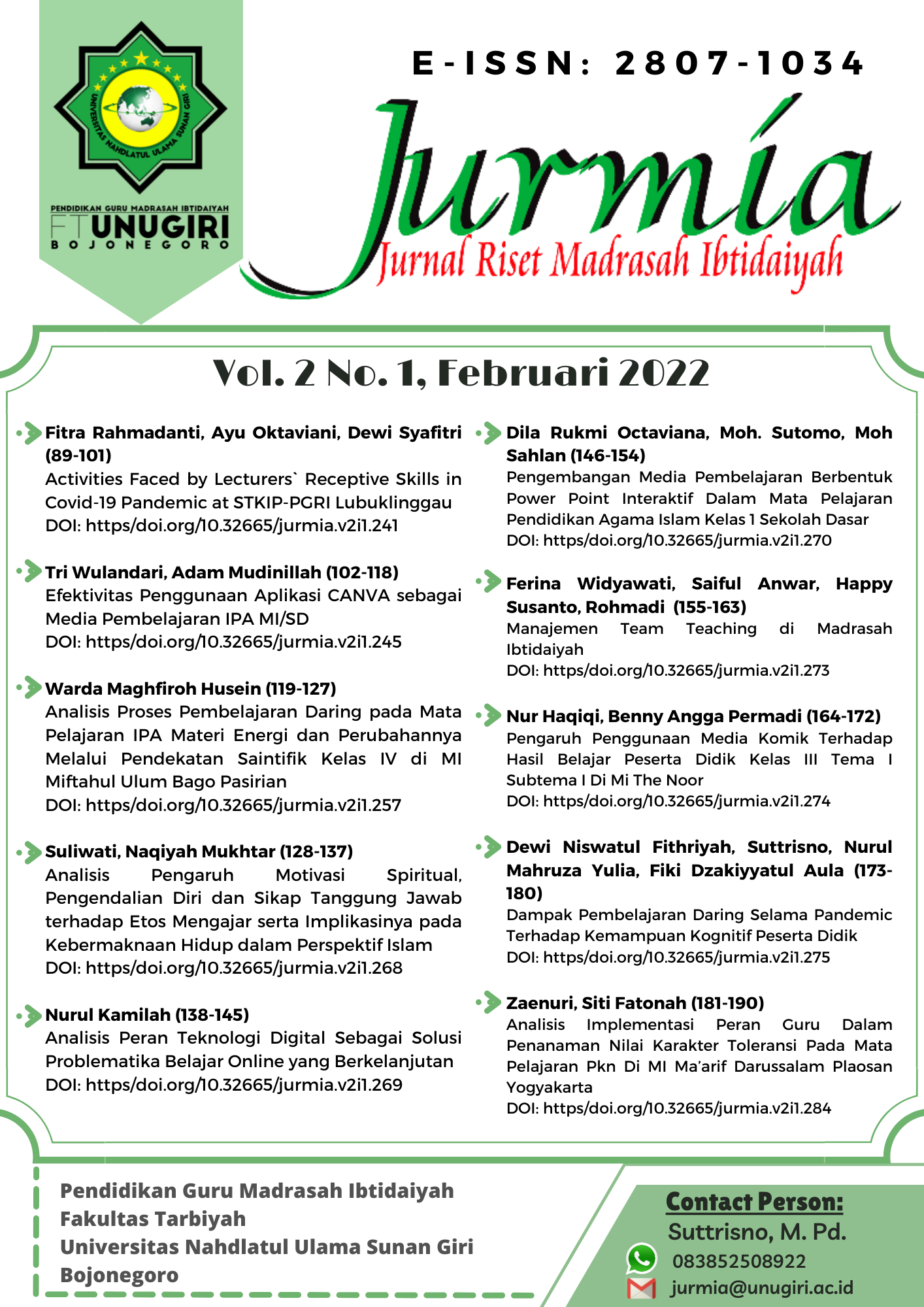 Downloads
How to Cite
Nur Haqiqi, & Benny Angga Permadi. (2022). Pengaruh Penggunaan Media Komik Terhadap Hasil Belajar Peserta Didik Kelas III Tema I Subtema I Di Mi The Noor. Jurnal Riset Madrasah Ibtidaiyah (JURMIA), 2(1), 164–172. https://doi.org/10.32665/jurmia.v2i1.274
License
Copyright (c) 2022 Jurnal Riset Madrasah Ibtidaiyah (JURMIA)
This work is licensed under a Creative Commons Attribution 4.0 International License.