MENINGKATKAN YOUNG ENTERPRENERSHIP DAN CREATIVE ENTERPRENERSHIP DI SMKN 2 SUMBAWA BESAR

Abstract View: 167,

PDF Download: 169
Keywords:
Generation Z, Entrepreneurs, Vocational High Schools (SMK)
Abstract
Generation Z has a high interest in owning their own business (entrepreneurship). However, in many conditions, Generation Z lacks experience and knowledge of the concept of entrepreneurship. In providing solutions to these problems, community service activities are held for students who are still in school, especially for Vocational High School (SMK) students who will later become young entrepreneurs. In this service, students are given material on financial management, human resource management and also business strategy management. Using a workshop method filled by the Management Study Program service team, students are introduced to several important concepts in entrepreneurship, namely the role of human resource management, entrepreneurship strategies and the concept of financial planning. As a result of this workshop, students become more aware of and have an interest in entrepreneurship after graduating from secondary education.
References
Anna, L. K. (2021). Mayoritas Gen Z dan Milenia ingin Punya Bisnis Sendiri. Kompas.Com. Retrieved from https://lifestyle.kompas.com/read/2021/08/27/111953620/mayoritas-gen-z-dan-milenial-ingin-punya-bisnis-sendiri?page=all#page2
Apriyanti, M. E. (2020). PENTINGNYA MANAJEMEN DIRI DALAM BERWIRAUSAHA. Jurnal USAHA, 1(1). https://doi.org/10.30998/juuk.v1i1.290
Dharta, F. Y., Kusumaningrum, R., & Chaerudin, C. (2021). Penguatan Strategi Komunikasi Pada Pengelola Destinasi Wisata Di Kabupaten Karawang. To Maega : Jurnal Pengabdian Masyarakat, 4(2). https://doi.org/10.35914/tomaega.v4i2.578
Guth, W. D., & Ginsberg, A. (1990). Guest Editors' Introduction: Corporate Entrepreneurship. Strategic Management Journal, 11(4).
Indonesia, P. R. (2015). Undang Undang Republik Indonesia Nomor 2 Tahun 1989 Tentang Sistem Pendidikan Nasional. Sistem Pendidikan Nasional.
Purwaningsih, D. (2021). Pentingnya Motivasi Dalam Menumbuhkan Minat Berwirausaha. ETNIK: Jurnal Ekonomi Dan Teknik, 1(2). https://doi.org/10.54543/etnik.v1i2.16
Suttrisno, S., & Puspitasari, H. (2021). Pengembangan Buku Ajar Bahasa Indonesia Membaca dan Menulis Permulaan (MMP) Untuk Siswa Kelas Awal. Tarbiyah Wa Ta'lim: Jurnal Penelitian Pendidikan dan Pembelajaran, 83-91.
Soeharto. Instruksi Presiden Republik Indonesia Nomor 4 Tahun 1995 Tentang Gerakan Nasional Memasyarakatkan Dan Membudayakan Kewirausahaan. , 11 Tetrahedron Letters § (1995).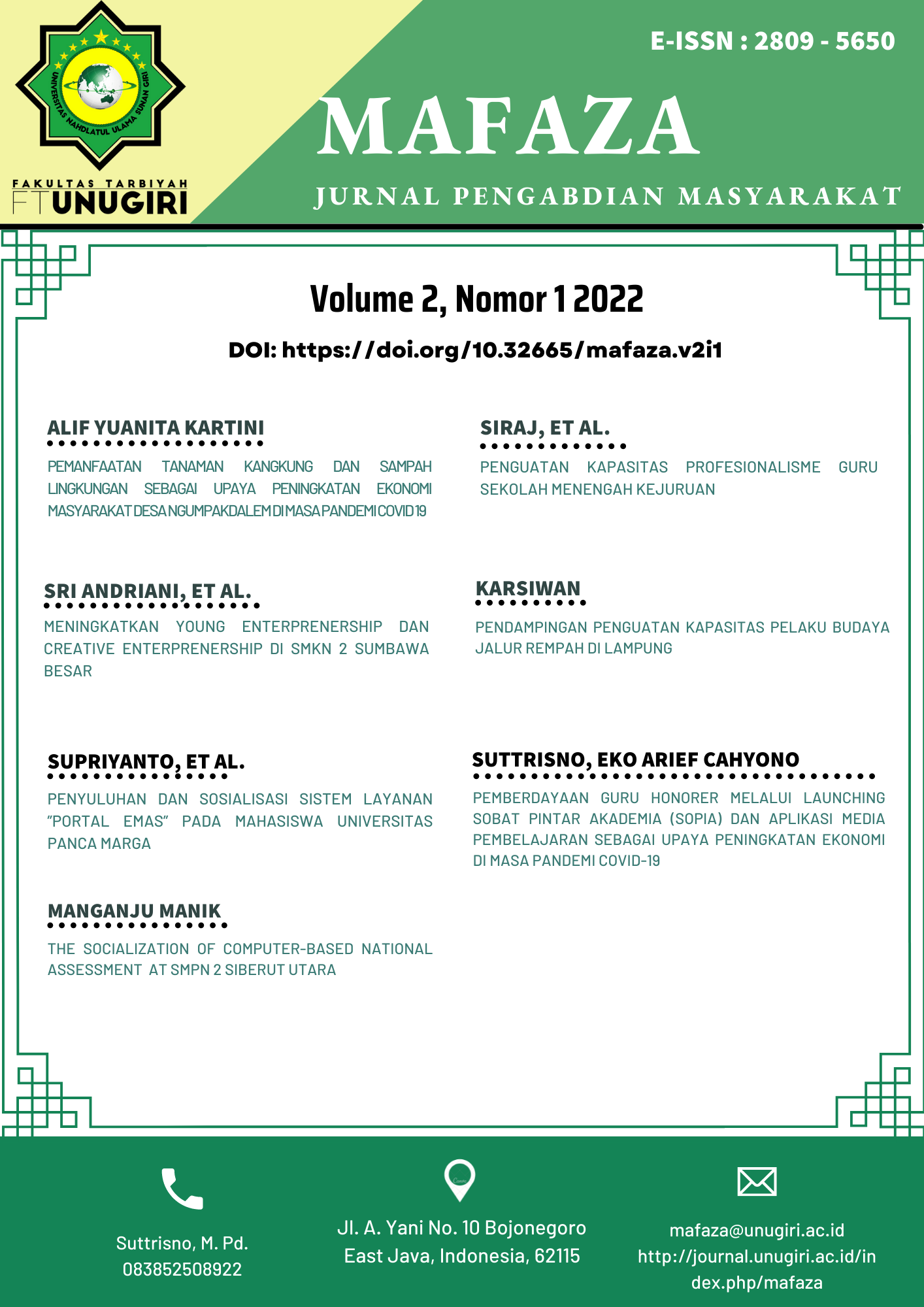 Downloads
How to Cite
Serli Oktapiani, Sri Andriani, Hartini, Putri Reno Kemala Sari, & Muhammad Nur Fietroh. (2022). MENINGKATKAN YOUNG ENTERPRENERSHIP DAN CREATIVE ENTERPRENERSHIP DI SMKN 2 SUMBAWA BESAR. Mafaza : Jurnal Pengabdian Masyarakat, 2(1), 83–92. https://doi.org/10.32665/mafaza.v2i1.445
License
Copyright (c) 2022 Mafaza : Jurnal Pengabdian Masyarakat
This work is licensed under a Creative Commons Attribution 4.0 International License.

Abstract View: 167,

PDF Download: 169