PENDAMPINGAN PENGUATAN KAPASITAS PELAKU BUDAYA JALUR REMPAH DI LAMPUNG
Keywords:
Jalur Rempah, Pelaku Budaya, Pendampingan
Abstract
The Spice Route is a spice trade route in the archipelago and leaves traces of civilization heritage, including in the Lampung region. Assistance in strengthening the capacity of the Spice Route cultural actors is carried out in order to support the government's efforts to propose the Spice Route as an intangible cultural heritage by Unesco. interest in the history of the spice route in the Southern Sumatra region, especially the Lampung area. In addition, mentoring activities to strengthen the capacity of the cultural actors of the spice route are also intended as a promotion and socialization of the existence of the spice route in Lampung to cultural actors from outside Lampung. The partners for this service are the Directorate of Cultural Protection, Kemendikbudristek, the Education and Culture Offices of West Lampung and East Lampung Regencies, students and history teachers in Jakarta, Bandung and Banten. The method of devotion is a direct mentoring method to the perpetrators of the spice path culture. The results of the service were the recording of spice knots in the Lampung area, especially in Bandar Lampung with the location of the spice route in the form of Panjang port and Jami Al Anwar Mosque. For the East Lampung area, it is located at the Pugung Rahardjo Archaeological Site and the remains of the Sultanate of Banten in Lampung in the form of the Dalung Charter which supports the existence of pepper plantations. West Lampung is located at Wisma Sindalapai, Tomb of King Selalau, Lamban Pesagi, Dalom Belunguh Building. Lampung as a spice-producing area that has close relations with the spice route, especially with the Sultanate of Banten can be information that provides an illustration that Lampung was once a spice-producing center and had an important role in the spice trade node in the region that connected the West and East. Archipelago.
References
Ahmad Manshur. (2021). PEMBERDAYAAN MASYARAKATMELALUI PENGEMBANGAN WISATA EDUKASI DAN REKREASI KAMPUNG NELAYAN. Mafaza : Jurnal Pengabdian Masyarakat, 1(1). https://doi.org/10.32665/mafaza.v1i1.264
Asnan, G. (2009). Sungai dan Sejarah Sumatera (M. Nursyam (ed.); 1st ed.). Penerbit Ombak.
Broersma, R. (1916). De Lampongsche districten (R. Broersma (ed.); 1st ed.). Batavia: Javasche Boekhandel. https://opac.perpusnas.go.id/DetailOpac.aspx?id=163165
DARWIS, R. S. (2020). PENGUATAN KAPASITAS WIRAUSAHAWAN MIKRO MENGGUNAKAN METODE PENDAMPINGAN DI DESA MEKARGALIH, KECAMATAN JATINANGOR, KABUPATEN SUMEDANG. Dharmakarya, 9(2). https://doi.org/10.24198/dharmakarya.v9i2.25080
Guillot, Claude, Lukman Nurhakim, S. W. (1996). Banten Sebelum Zaman Islam Kajian Arkeologi di Banten Girang 932? – 1526. Departemen Pendidikan dan Kebudayaan.
Guillot, C. dkk. (n.d.). Barus Seribu Tahun yang Lalu. KPG (Kepustakaan Populer Gramedia).
Karsiwan. (2022). Sosialisasi Sistem Akreditasi dan Keterbutuhan Dokumen Akreditasi Pada PKPPS Khidmatusunnah. ABDIRA Jurnal Pengabdian Masyarakat, 2, 96–109.
Karsiwan, K. (2020). Kejayaan Lada Hingga Praktek Perburuhan di Lampung Abad ke XVIII Hingga Abad XX. Tsaqofah Dan Tarikh: Jurnal Kebudayaan Dan Sejarah Islam, 5(1). https://doi.org/10.29300/ttjksi.v5i1.2710
Oktafia, R., & Hidayat, A. R. (2018). Penguatan Kapasitas Pelaku Bisnis Mikro Melalui Penataan Pengelolaan Keuangan Usaha: Pandangan Islam. Jurnal Masharif Al-Syariah: Jurnal Ekonomi Dan Perbankan Syariah, 3(2). https://doi.org/10.30651/jms.v3i2.2090
Pires, T. (2019). Summa Oriental; Que Trata do Mar Roxo ate Aos Chins, (1515). Ombak.
Pradjoko, Didik dan Utomo, B. B. (2013). Atlas Pelabuhan Pelabuhan Bersejarah di Indonesia. Direktorat Sejarah dan Nilai Budaya, Direktorat Jenderal Kebudayaan.
Rahman, F. (2019). "NEGERI REMPAH-REMPAH" DARI MASA BERSEMI HINGGA GUGURNYA KEJAYAAN REMPAH-REMPAH. Patanjala : Jurnal Penelitian Sejarah Dan Budaya, 11(3). https://doi.org/10.30959/patanjala.v11i3.527
Reid, A. (2011). Asia Tenggara Dalam Kurun Niaga II. Obor.
Roelofsz, M. M. A. . (2016). Perdagangan Asia dan pengaruh Eropa di Nusantara Antara 1500 dan Sekitar 1630. Ombak.
Suroyo, A. D. et al. (2012). Indonesia dalam Arus Sejarah. Ichtiar Baru Van Hoeve.
Suttrisno, S. (2021). Pengaruh Pemanfaatan Alat Peraga Ips Terhadap Kinerja Guru Sekolah Dasar. Jurnal Ilmiah Pendidikan Dasar, 8(1), 77-90.
Wellan, J. W. . (1932). Zuid Sumatra: Economisch Overzicht van de Gewesten Djambi, Palembang, De Lampongsche Districten en Benkoelen.Veenman & Zonen- Wageningen (Holland).
Wibisono, S. . (2020). Webinar Pengolahan Arsip Jalur Rempah. Pusat Penelitian Arkeologi Nasional.
Wijayati, M. (2011). JEJAK KESULTANAN BANTEN DI LAMPUNG ABAD XVII (Analisis Prasasti Dalung Bojong). Analisis: Jurnal Studi Keislaman, 11(2), 383–420. https://doi.org/10.24042/AJSK.V11I2.622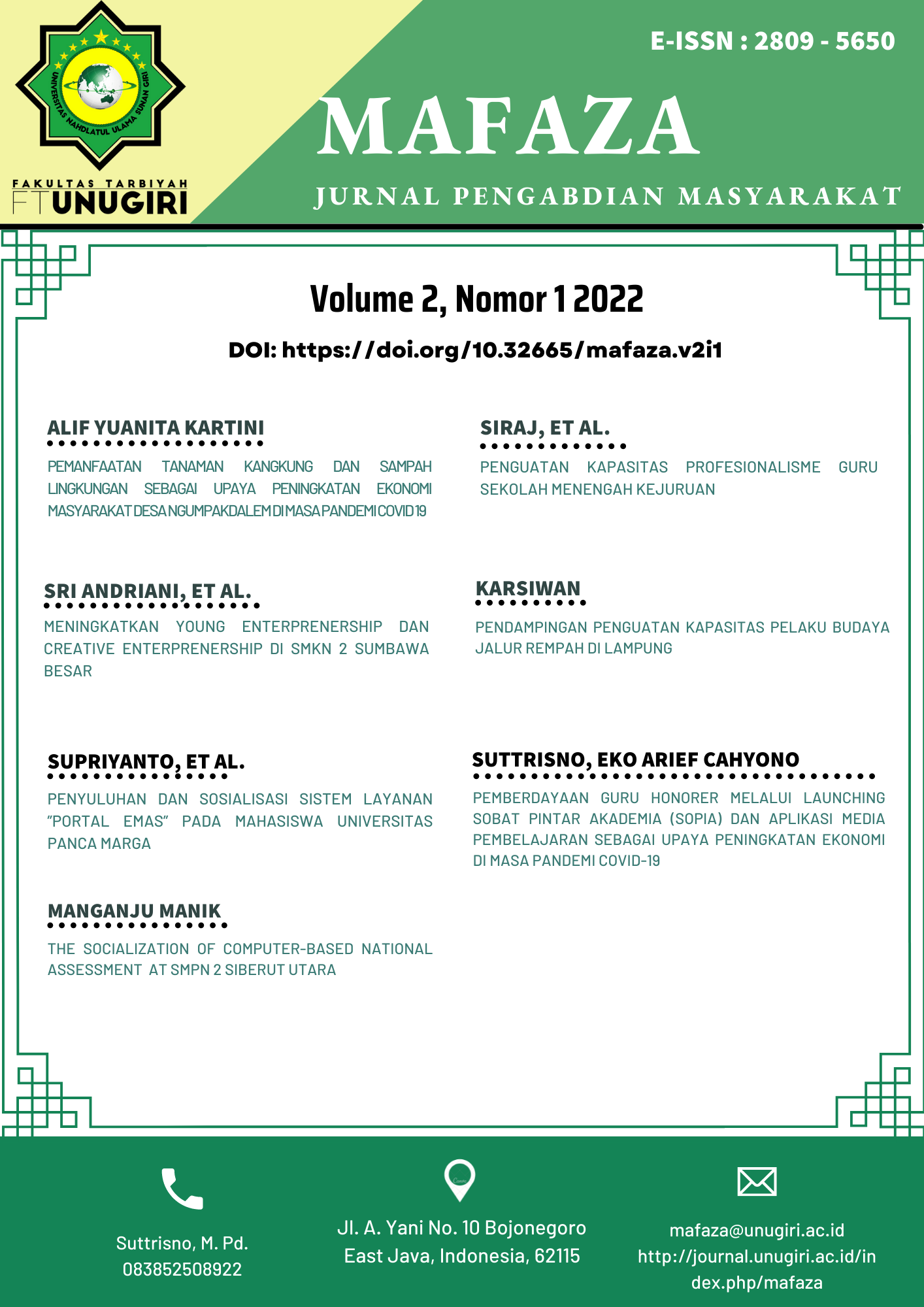 Downloads
How to Cite
Karsiwan. (2022). PENDAMPINGAN PENGUATAN KAPASITAS PELAKU BUDAYA JALUR REMPAH DI LAMPUNG. Mafaza : Jurnal Pengabdian Masyarakat, 2(1), 120–135. https://doi.org/10.32665/mafaza.v2i1.460
License
Copyright (c) 2022 Mafaza : Jurnal Pengabdian Masyarakat
This work is licensed under a Creative Commons Attribution 4.0 International License.