PENGARUH PEER TUTORING METHOD MENGGUNAKAN BUKU SAKU DIGITAL TERHADAP PEMAHAMAN KONSEP MATEMATIS
Keywords:
Buku Saku Digital, Pemahaman Konsep, Peer Tutoring Method , Digital Pocket Book, Concept Comprehension
Abstract
This study aimed to determine the increase in understanding of mathematical concepts using the Peer Tutoring method and digital pocketbooks. The research conducted was experimental research. This study used random sampling with cluster random sampling technique. The data collection technique is using a test (essay). The data analysis technique in this study is the normality gain (N-gain). The data analysis technique applied to test the hypothesis in this study was the ANOVA of the same cell path. The results of data analysis and hypothesis testing that have been carried out can be concluded that there is an effect of Peer Tutoring Method learning using learning media assisted by digital pocketbooks on the ability to understand mathematical concepts.
Abstrak
Tujuan dari penelitian ini untuk mengetahui peningkatan pemahaman konsep matematis dengan Peer Tutoring Method dan buku saku digital. Penelitian yang dilakukan adalah penelitian eksperimen. Penelitian ini menggunakan random sampling dengan teknik cluster random sampling. Teknik pengumpulan data adalah menggunakan Tes (essay). Teknik analisis data pada penelitian ini adalah dengan normalitas gain (N-gain). Teknik analisis data-yang diterapkan untuk menguji hipotesis dalam penelitian ini adalah dengan ANOVA satu jalan sel sama. Hasil analisis data dan pengujian hipotesis yang telah dilakukan dapat disimpulkan bahwa adanya pengaruh penggunaan pembelajaran Peer Tutoring Method menggunakan media pembelajaran berbantu buku saku digital terhadap kemampuan pemahaman konsep matematis.
References
Martinah, A. S., Kharisma, O. H., Nasution, S. P., & Pahrudin, A. Pengaruh Model Pembelajaran Master Terhadap Literasi Matematis Ditinjau Dari Perbedaan Gender. (2019).
Pahrudin, A., & Syafril, S. Learning Content of Islamic Education Based on Multikultural in Senior High School in Bandar Lampung. Al-Tadzkiyyah: Jurnal Pendidikan Islam, 9(1), (2018), 81–91.
Arnidha, Y. Analisis Pemahaman Konsep Matematika Siswa Sekolah Dasar Dalam Penyelesaian Bangun Datar. JPGMI (Jurnal Pendidikan Guru Madrasah Ibtidaiyah Al-Multazam), 3(1), (2018), 53–61.
Fitri, S., & Utomo, R. B. Pengaruh model pembelajaran auditory, intellectually, and repetition terhadap kemampuan pemahaman konsep di SMP Pustek Serpong. JURNAL e-DuMath, 2(2), (2016).
Sarniah, S., Anwar, C., & Putra, R. W. Y. Pengaruh Model Pembelajaran Auditory Intellectually Repetition terhadap Kemampuan Pemahaman Konsep Matematis. Journal of Medives: Journal of Mathematics Education IKIP Veteran Semarang, 3(1), (2019), 87–96.
Ishartono, B., Ashadi, A., & Susilowati, E. Implementasi Model Pembelajaran Problem Solving Berbantuan Peer Tutoring Dilengkapi Hierarki Konsep Untuk Meningkatkan Kualitas Proses Dan Hasil Belajar Materi Stoikiometri Pada Siswa Kelas X IPA 6 Sman 1 Sukoharjo Tahun Pelajaran 2013/2014. Jurnal Pendidikan Kimia, 4(1), (2014), 10–19.
Yuliana, N., & Hamidi, N. Pembelajaran Kombinasi Tipe Pairs Checks dan Peer Tutoring Mampu Meningkatkan Prestasi Belajar Akuntansi Siswa SMA. Jurnal Pendidikan Ekonomi Universitas Sebelas Maret, 3(1), (2014), 13597.
Husain, C. Pemanfaatan teknologi informasi dan komunikasi dalam pembelajaran di SMA Muhammadiyah Tarakan. Jurnal Kebijakan dan Pengembangan Pendidikan, 2(2), (2014).
Sari, A. S. Pengembangan Buku Digital Melalui Aplikasi Sigil pada Mata Kuliah Cookies dan Candys. SCIENCE TECH: Jurnal Ilmiah Ilmu Pengetahuan dan Teknologi, 3(1), (2017), 46–54.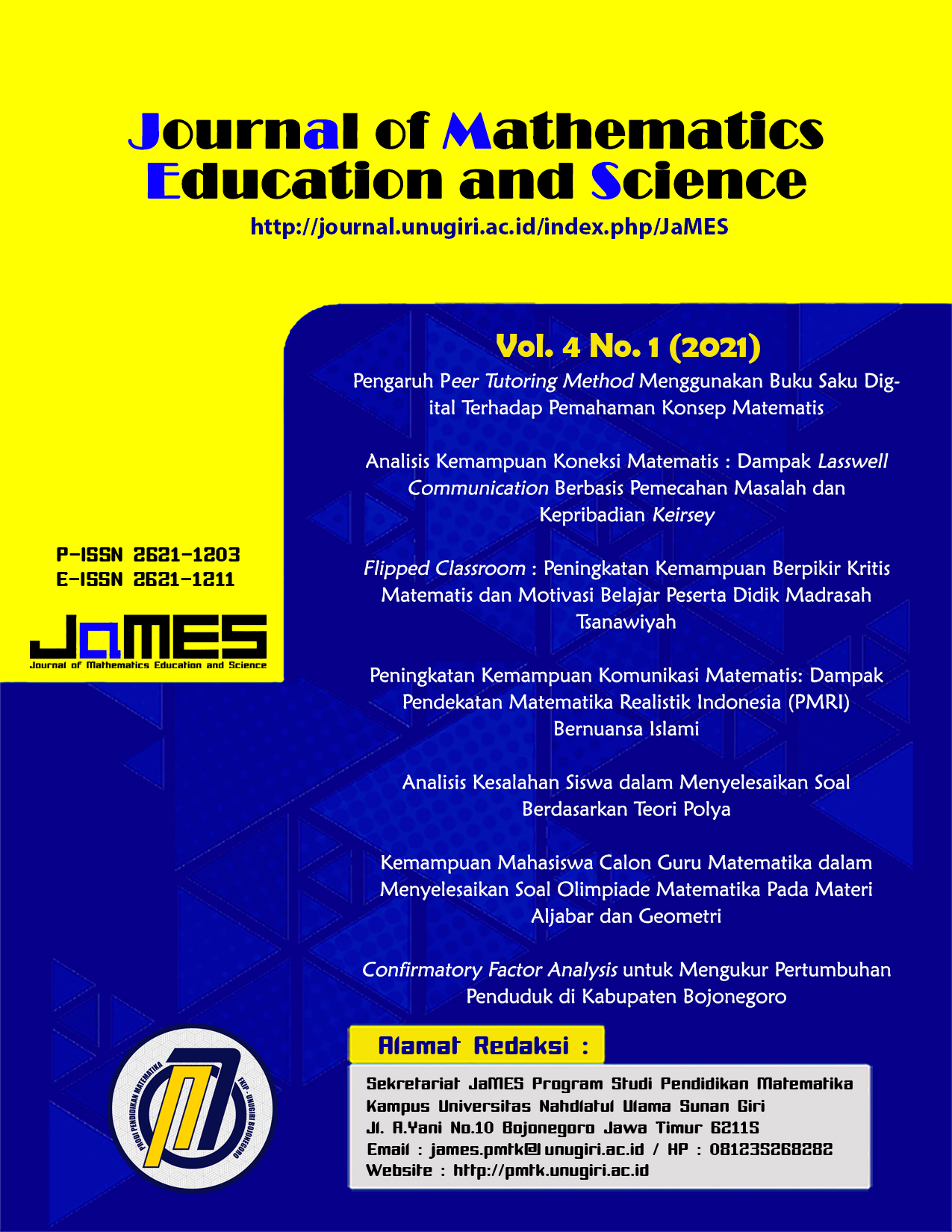 Downloads
How to Cite
[1]
A. Pamuji, R. W. Y. . Putra, and A. . Pahrudin, "PENGARUH PEER TUTORING METHOD MENGGUNAKAN BUKU SAKU DIGITAL TERHADAP PEMAHAMAN KONSEP MATEMATIS", JaMES, vol. 4, no. 1, pp. 1–6, Apr. 2021.
License
Copyright (c) 2021 Journal of Mathematics Education and Science
This work is licensed under a Creative Commons Attribution-NonCommercial-ShareAlike 4.0 International License.
Authors who publish with this journal agree to the following terms:
Authors retain copyright and grant the journal right of first publication with the work simultaneously licensed under a Creative Commons Attribution License that allows others to share the work with an acknowledgment of the work's authorship and initial publication in this journal.
Authors are able to enter into separate, additional contractual arrangements for the non-exclusive distribution of the journal's published version of the work (e.g., post it to an institutional repository or publish it in a book), with an acknowledgment of its initial publication in this journal.
Authors are permitted and encouraged to post their work online (e.g., in institutional repositories or on their website) prior to and during the submission process, as it can lead to productive exchanges, as well as earlier and greater citation of published work