Dampak Pembelajaran Daring Selama Pandemic Terhadap Kemampuan Kognitif Peserta Didik
Keywords:
online learning, covid-19, cognitive development
Abstract
Lately, we faced with situations that we have never experienced before.  Our country has been attacked by a very dangerous virus for humans, the virus called Covid-19.  Covid-19 is a virus that can be transmitted from one individual to another in a relatively short time.  In order to minimize the spread of COVID-19, various policies have been put in place.  The existence of Covid-19, which never end, had impacts on all aspects, such as economic, social, cultural aspects, and education is no exception.  In the implementation of education, all levels of educators which were initially carried out by conducting face-to-face learning must now be carried out in a different way, namely online learning. The aims of writing this article is to explain how the impact of online learning on children's cognitive abilities during the covid-19 pandemic.  This study was conducted using literature studies from various journals, and scientific writings and field observations during the pandemic.  In addition, it is also done by direct participation during the online learning process.  The conclusion from this article is that online learning during this pandemic has both positive and negative impacts on students' cognitive abilities.
References
Amreta , M. Y., Fitria, D. N., & Syadiah, H. (2021). pemngehasuyhushbns dshduhd duhedu. Cendikia (Jurnal Pendidikan Islam), 342-343.
Arsyad, A. (2011). Media pembelajaran. Jakarta: penerbit rajawali press.
Aziz, a. (2017). Komunikasi pendidik dan peserta didik dalam pendidikan islam. Mediakita, 1(2), 174.
Chusna, p. A., & utami, a. D. (2020). Dampak pandemi covid-19 terhadap peran orang tua dan guru dalam meningkatkan kualitas pembelajaran daring anak usia sekolah dasar. Premiere, 2(1), 12.
Dariyono, a. (2007). Psikologi perkembangan anak tiga tahun pertama. Bandung: refika adhitama.
Dewi, W. A. (2020, April). Dampak covid-19 terhadap implementasi pembelajaran daring di sekolah dasar. Edukatif: Jurnal Ilmu Pendidikan, 2, 56.
Haryadi, t., & aripin. (2015). melatih kecerdasan kognitif afektif, dan psikomotorik anak sekolah dasar melalui perancangan game simulasi "warungku". andharupa jurnal desain komunikasi visual & multimedia, 1(2), 41.
Hidayati, i. d., & aslam. (2021). efektivitas media pembelajaran aplikasi quizizz secara daring terhadap perkembangan kognitif siswa. jurnal pedagogi dan pembelajaran, 4(2), 251.
Kahfi, a. (2021). dampak pembelajaran daring di masa pandemi covid-19 terhadap perkembangan kognitif anak. dirasah, 4(1), 19.
Kuntarto, E. (2017). Kefektifan model pembelajaran daring dalam perkuliahan bahasa indonesia di perguruan tinggi. journal indonesia language education and literature, 3(1), 99-110.
Kusuma, W. S., & Sutapa, P. (2021). dampak pembelajaran daring terhadap perilaku sosial emosi anak. jurnal obsesi: jurnal pendidikan anak usia dini, 5, 1636.
maharani, b. y. (2017, juli). penerapan model pembelajaran discovery learning berbantuan benda konkret untuk meningkatkan hasil belajar ipa. e-journal mitra pendidikan, 1(5), 552.
N, S. A. (2019). pengaruh daring learning terhadap hasil belajar ipa siswa sekolah dasar. (p. 1). prosiding seminar nasional sains dan entrepeneurship.
Nata, a. (2009). perspektif islam tentang strategi pembelajaran. jakarta: kencana preanada media group.
Pratama, a. p. (2021). pengaruh pembelajaran daring terhadap motivasi belajar siswa sd. mahaguru jurnal pendidikan guru sekolah dasar, 2(1), 90.
Ramli, m. (2015). hakikat pendidikan dan peserta didik. jurnal tarbiyah islamiyah, 5(1), 63.
Suttrisno, S. Analisis Dampak Pembelajaran Daring terhadap Motivasi Belajar Siswa Madrasah Ibtidaiyah. Jurnal Riset Madrasah Ibtidaiyah, 1(1), 348380.
Suttrisno, S. (2021). Pengaruh Pemanfaatan Alat Peraga Ips Terhadap Kinerja Guru Sekolah Dasar. Jurnal Ilmiah Pendidikan Dasar, 8(1), 77-90.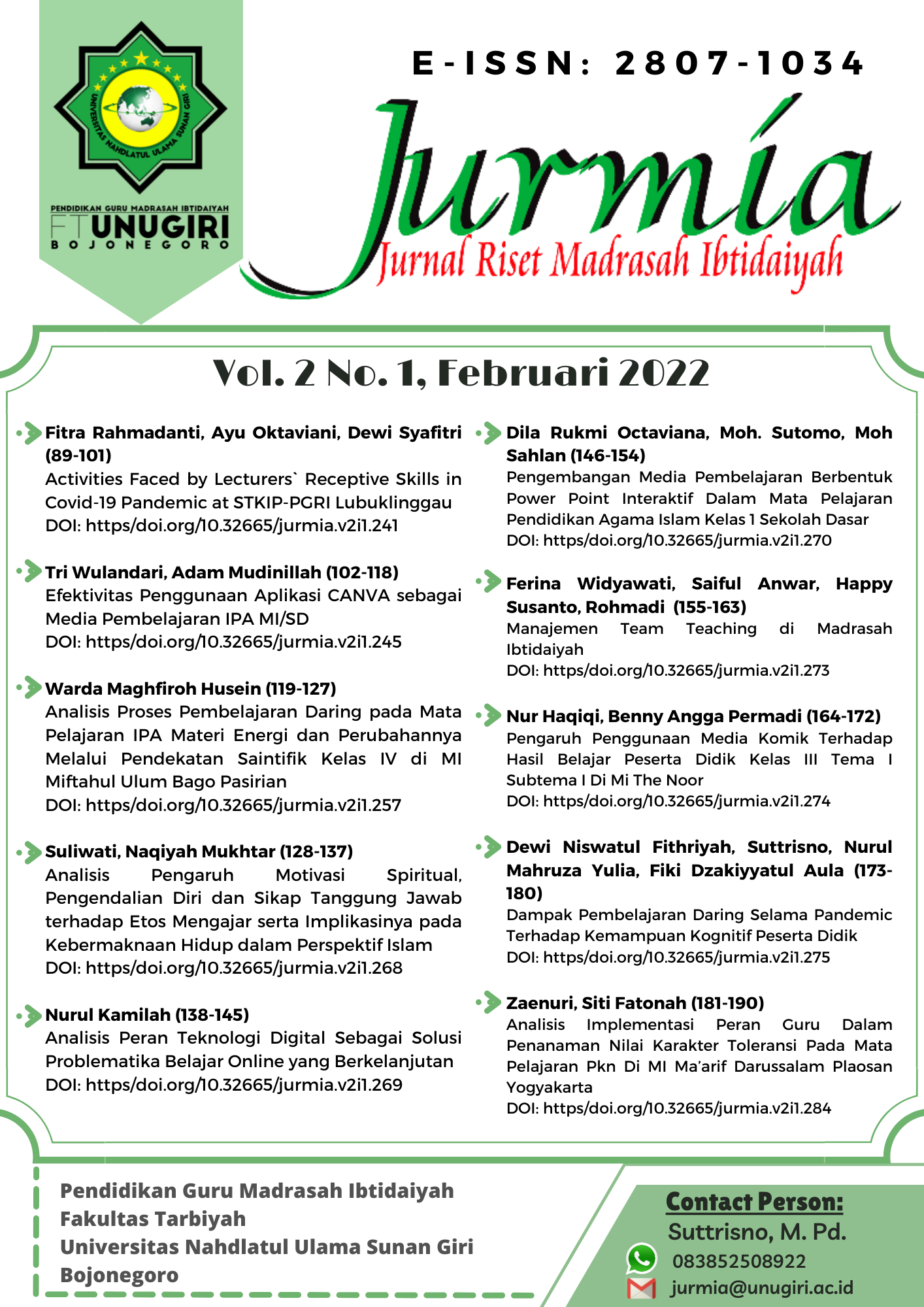 Downloads
How to Cite
Dewi Niswatul Fithriyah, Suttrisno, Nurul Mahruzah Yulia, & Fiki Dzakiyyatul Aula. (2022). Dampak Pembelajaran Daring Selama Pandemic Terhadap Kemampuan Kognitif Peserta Didik. Jurnal Riset Madrasah Ibtidaiyah (JURMIA), 2(1), 173–180. https://doi.org/10.32665/jurmia.v2i1.275
License
Copyright (c) 2022 Jurnal Riset Madrasah Ibtidaiyah (JURMIA)
This work is licensed under a Creative Commons Attribution 4.0 International License.