DISPOSISI MATEMATIS SISWA SMK BERDASARKAN LANGKAH-LANGKAH PENYELESAIAN MASALAH POLYA
Habibah Nur Jannah

Universitas Nusantara PGRI Kediri
Keywords:
mathematical disposition, problem solving, polya, batik, disposisi matematis, penyelesaian masalah
Abstract
This study aims to analyze the mathematical disposition of vocational students. The research model used is descriptive qualitative. Mathematical disposition is the ability of students to solve problems in mathematics. Mathematical disposition is important for students in everyday life. But there are still many difficulties encountered by students in solving problems. This was evidenced when the researcher carried out a preliminary study at the Kediri Vocational High School PGRI, which found that some students were less able to solve mathematical problems with confidence, as well as other indicators that showed weak mathematical dispositions. This is reinforced by the teacher's statement that in addition to the weak concept being mastered, students lack confidence in solving math problems given by the teacher. Based on these problems, researchers are interested in knowing more about the disposition of mathematics students given mathematical problems whose results are resolved based on the steps to solve problems according to Polya's theory. This study aims to describe students' mathematical dispositions based on problem solving steps. The instruments used are student worksheets and interview sheets. The subjects of this study were students of class XI of Hidayatus Sholihin Vocational School, who were capable of the Department of Computer and Network Engineering. The results of the trial show that students with moderate mathematical abilities have different mathematical dispositions, namely moderate and low. Students who are capable of going through 3 steps to solve the problem, while the low ability can only do 1 step.

Penelitian ini bertujuan untuk menganalisis disposisi matematis siswa SMK. Model penelitian yang digunakan adalah deskriptif kualitatif. Disposisi matematis adalah kemampuan siswa dalam menyelesaikan permasalahan dalam  matematika. Disposisi matematis penting bagi siswa dalam kehidupan sehari-hari. Namun masih banyak dijumpai kesulitan siswa dalam  menyelesaikan  masalah. Hal ini dibuktikan ketika peneliti melaksanakan studi pendahuluan di SMK PGRI Kediri yaitu didapati beberapa siswa kurang mampu  menyelesaikan masalah matematika dengan percaya diri, serta indikator lain yang menunjukkan disposisi matematisnya lemah. Hal ini diperkuat dengan penyataan guru bahwa selain lemahnya konsep yang dikuasai, siswa kurang percaya diri dalam menyelesaikan masalah matematika yang diberikan oleh guru. Berdasarkan masalah tersebut, peneliti tertarik untuk mengetahui lebih lanjut disposisi matematika siswa  dengan diberikan masalah matematika yang hasilnya penyelesaian masalahnya dikaji berdasarkan langkah-langkah penyelesaian masalah menurut teori Polya. Penelitian ini  bertujuan untuk  mendeskripsikan disposisi matematis siswa berdasarkan langkah penyelesaian masalah. Instrumen yang dipergunakan adalah  lembar kerja siswa  dan  lembar  wawancara. Subjek penelitian ini adalah siswa kelas XI SMK  Hidayatus Sholihin Jurusan Teknik Komputer dan Jaringan yang berkemampuan sedang. Hasil Uji coba menunjukkan siswa berkemampuan matematis sedang memiliki disposisi matematis yang berbeda, yakni sedang dan rendah. Siswa berkemampuan sedang  melewati 3 langkah penyelesaian masalah, sedangkan kemampuan rendah mampu hanya melakukan 1 langkah.
References
[1] NCTM. 2000.Principle and Standards for School mathematics. USA: NCTM
[2] Harususilo, Y.E. 8 Mei 2018. Ini 2 Faktor Penyebab Nilai UN SMA Menurun. Tersedia : https://edukasi.kompas.com/read/2018/05/08/20070771/ini-2-faktor-penyebab-nilai-un-sma-menurun. diakses 9 Mei 2019
[3] Hendriana, H., Rohaeti, E. E., & Sumarmo, U. (2017). Hard Skills dan Soft Skills Matematik Siswa. Bandung: Refika Aditama.
[4] Marlina, L., & Danica, C. (2009). Analisis Pengaruh Cash Position. Debt To Equity Ratio, Dan Return On Assets Terhadap Divident Payout Ratio. Jurnal Manajemen Bisnis. Vol. 2(1),pp. 1-6.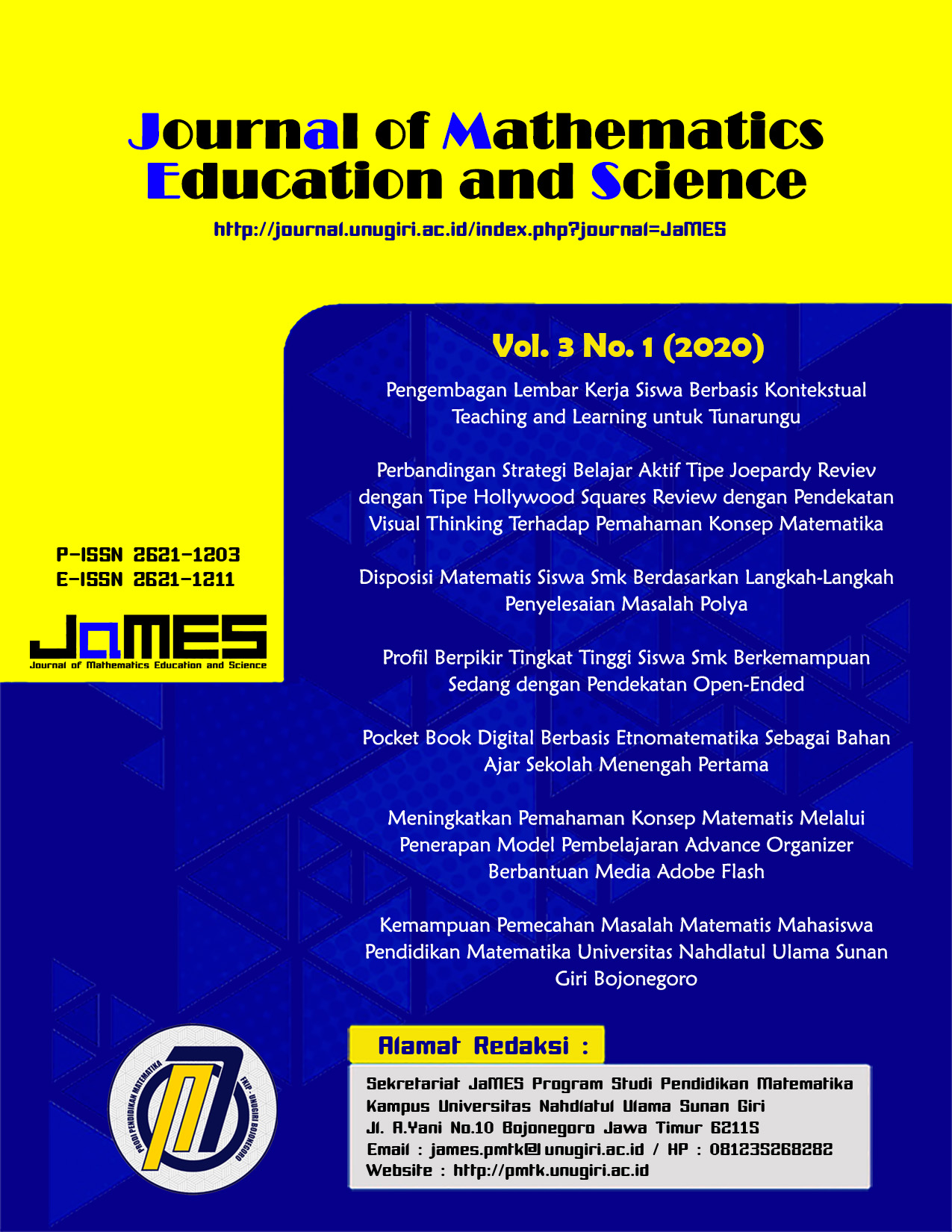 How to Cite
Jannah, H. (2020). DISPOSISI MATEMATIS SISWA SMK BERDASARKAN LANGKAH-LANGKAH PENYELESAIAN MASALAH POLYA. Journal of Mathematics Education and Science, 3(1), 19-22. https://doi.org/https://doi.org/10.32665/james.v3i1.95
This work is licensed under a Creative Commons Attribution-NonCommercial-ShareAlike 4.0 International License.
The Authors submitting a manuscript do so on the understanding that if accepted for publication, copyright of the article shall be assigned to JaMES, Department of Mathematics Education, Universitas Nahdlatul Ulama Sunan Giri as publisher of the journal, and the author also holds the copyright without restriction.
Copyright encompasses exclusive rights to reproduce and deliver the article in all form and media, including reprints, photographs, microfilms and any other similar reproductions, as well as translations. The reproduction of any part of this journal, its storage in databases and its transmission by any form or media, such as electronic, electrostatic and mechanical copies, photocopies, recordings, magnetic media, etc. , are allowed with a written permission from JaMES, Department of Mathematics Education, Universitas Nahdlatul Ulama Sunan Giri.
JaMES, Department of Mathematics Education, Universitas Nahdlatul Ulama Sunan Giri, the Editors and the Advisory International Editorial Board make every effort to ensure that no wrong or misleading data, opinions or statements be published in the journal. In any way, the contents of the articles and advertisements published in the JaMES, Department of Mathematics Education, Universitas Nahdlatul Ulama Sunan Giri are sole and exclusive responsibility of their respective authors and advertisers.