MINAT SISWA DALAM MENGIKUTI EKSTRAKURIKULER BOLA VOLI

Abstract View: 334,

pdf Download: 289
Keywords:
Minat, Bola voli
Abstract
Penelitian ini bertujuan melihat besarnya  faktor yang mempengaruhi minat SMA Negeri 1 Sumberrejo. Penelitian ini berjenis survei deskriptif. Pengumpulan data didapat dari skor angket. Data dianalisis menggunakan teknik statistik deskriptif kuantitatif dituangkan dalam bentuk persentase. Populasi penelitian ini adalah SMA Negeri 1 Sumberrejo yang berjumlah 945 siswa, dengan sampel 95 siswa. Kegiatan ekstrakuliluler bola voli di SMA Negeri 1 Sumberrejo minat siswa sebagaian besar berada di kategori rendah sebesar 57,89%, Sedangkan berdasarkan faktor eksternal kategori rendah sebesar 53,68%.
References
Arifin, Zainal, Ilham Surya Fallo, and Putra Sastaman. 2017. "Identifikasi Bakat Olahraga Siswa Sekolah Dasar Di Pontianak Barat." Jurnal Pendidikan Olahraga 6(2):129–39.
Clark, Cain, Claire Barnes, Mark Holton, Huw Summers, and Gareth Stratton. 2016. "A Kinematic Analysis of Fundamental Movement Skills." Sport Science Review 25:261–75.
Hernado, Fitrek, Soekardi, and Wahyu Lestari. 2017. "Pengaruh Metode Latihan Dan Power Otot Lengan Terhadap Hasil Tolak Peluru." Journal of Physical Education and Sports 6(1):22–28.
Lubans, David, Philip Morgan, Dylan Cliff, and Lisa Barnett. 2010. "Fundamental Movement Skills in Children and Adolescents." Sports Medicine (Auckland, N.Z.) 40:1019–35.
Nurseta, Hidayat, and Tommy Soenyoto. 2017. "Manajemen Pelaksanaan POPDA SMP / MTs Dan SMA / SMK / MA Tingkat Kabupaten Pemalang Tahun 2015 Abstrak." Journal of Physical Education and Sports (JPES) 6(2):157–64.
Siagian, Roida. 2015. "Pengaruh Minat Dan Kebiasaan Belajar Siswa Terhadap Prestasi Belajar Matematika." Formatif: Jurnal Ilmiah Pendidikan MIPA 2.
Sugiyono. 2010. Metode Penelitian Kuantitatif Dan R&D. Bandung: Alfabeta.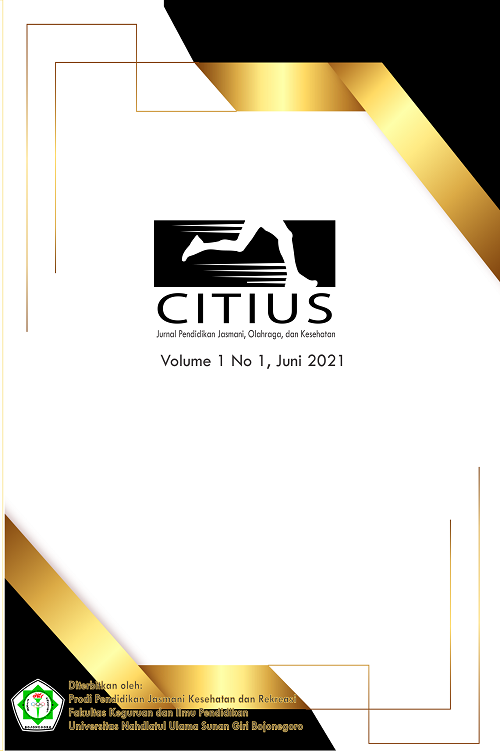 Downloads
How to Cite
Megy Yuli Yanti, Wahyu Setia Kuscahyaning Putri, & Hilmy Aliriad. (2021). MINAT SISWA DALAM MENGIKUTI EKSTRAKURIKULER BOLA VOLI. Citius : Jurnal Pendidikan Jasmani, Olahraga, Dan Kesehatan, 1(1), 1–4. https://doi.org/10.32665/citius.v1i1.185

Abstract View: 334,

pdf Download: 289