Media Pembelajaran Pendidikan Jasmani Pada Masa Pandemi Covid-19
Keywords:
Media Pembelajaran, Pendidikan Jasmani, Pandemi, Media
Abstract
Penelitian ini bertujuan melihat implementasi pembelajaran Pendidikan Jasmani Olahraga dan Kesehatan (PJOK) pada masa pandemi Corona Virus Disease-19 (Covid-19) yang bertempat pada Kabupaten Bojonegoro. Penelitian ini metode penelitian deskriptif kuantitatif. Dalam penelitian ini populasi yang digunakan adalah berjumlah 18 Guru PJOK di SDN Se-Kecamatan Sukosewu Kabupaten Bojonegoro. Data diolah dengan rumus prosentase. Hasil: indikator pelaksanaan pembelajaran yaitu 100% tetap melaksanakan pembelajaran, indikator metode pembelajaran 72,22 % guru menggunakan daring, indikator media pembelajaran 55,56% tenaga pendidik menggunakan media whatsapp, indikator upaya pelaksanaan pembelajaran 100,00% tenaga pendidik bekerjasama dengan orang tua peserta didik, indikator fasilitas yang disediakan 83,33% tenaga pendidik tidak menyediakan fasilitas, indikator hambatan yang dihadapi selama pembelajaran 44,44% tenaga pendidik kesulitan mengakses, indikator partisipasi peserta didik 50,00% peserta didik tidak memperhatikan pembelajaran, indikator sistem dan proses penilaian 72,22% kesesuaian pengumpulan tugas dan ujian, indikator pendapat penilaian 77,78% tenaga pendidik mengatakan penilaian peserta didik melalui pembelajaran daring kurang efektif, indikator kesulitan dalam pembelajaran menunjukkan bahwa 77,78% tenaga pendidik menjawab kurang responnya peserta didik. Sekolah  sebaiknya  memberi  bimbingan  dan  pelatihan  kepada  Bapak/Ibu  Guru  dalam  pemanfaatan  media  dan  metode  pembelajaran  serta  memberikan  fasilitas  untuk  menunjang  proses  pembelajaran  pada  masa  pandemi  Covid-19  agar  terlaksana  dengan  efektif  dan  efisien.
References
Adamakis, M., & Zounhia, K. (2013). Greek Undergraduate Physical Education Students' Basic Computer Skills. The Physical Educator, 70, 135–154.
Adi, S., Apriyanto, R., Utama, M. B. R., Festiawan, R., Firmansyah, G., & Bhakti, Y. (2021). Assessing Aspects Of Strength, Concentration, Interest, Physical Activity And Body Mass Index. Jp.Jok (Jurnal Pendidikan Jasmani, Olahraga Dan Kesehatan), 5(1 SE-Articles). https://doi.org/10.33503/jp.jok.v5i1.1722
Adi, S., Soenyoto, T., & Sulaiman, S. (2018). The Implementation of Media in Teaching and Learning of Physical, Sport, and Health Education Subject. Journal of Physical Education and Sports, 7(1 SE-Articles). https://journal.unnes.ac.id/sju/index.php/jpes/article/view/19740
Al-Tamimi, D. M. (2003). Application of information and communication technologies in medical education. Journal of Family & Community Medicine, 10(1), 67–76. https://pubmed.ncbi.nlm.nih.gov/23011983
Aldossary, K. (2021). Online Distance Learning for Translation Subjects: Tertiary Level Instructors' and Students' Perceptions in Saudi Arabia. Turkish Online Journal of Distance Education, 22(3), 1–13. https://doi.org/10.17718/tojde.961821
Altun, T., Aky?ld?z, S., Gülay, A., & Özdemir, C. (2021). Investigating Education Faculty Students' Views about Asynchronous Distance Education Practices during Covid-19 Isolation Period. Psycho-Educational Research Reviews , 10(1 SE-Articles), 34–45. https://www.journals.lapub.co.uk/index.php/perr/article/view/1710
Arikunto, S. (2012). Prosedur Penelitian Ilmiah Suatu Pendekatan Praktik. Rineka Cipta.
Bakhov, I., Opolska, N., Bogus, M., Anishchenko, V., & Biryukova, Y. (2021). Emergency Distance Education in the Conditions of COVID-19 Pandemic: Experience of Ukrainian Universities. In Education Sciences (Vol. 11, Issue 7). https://doi.org/10.3390/educsci11070364
BENADLA, D., & Hadji, M. (2021). EFL Students Affective Attitudes towards Distance E-Learning Based on Moodle Platform during the Covid-19the Pandemic: Perspectives from Dr. MoulayTahar University of Saida, Algeria. https://doi.org/10.31235/osf.io/4xepz
Bozkurt, A., & Sharma, R. (2020). Emergency remote teaching in a time of global crisis due to CoronaVirus pandemic. 15, i–vi. https://doi.org/10.5281/zenodo.3778083
Cheng, W., Zhang, Z., Cheng, W., Yang, C., Diao, L., & Liu, W. (2018). Associations of leisure-time physical activity with cardiovascular mortality: A systematic review and meta-analysis of 44 prospective cohort studies. European Journal of Preventive Cardiology, 25(17), 1864–1872. https://doi.org/10.1177/2047487318795194
Debe?, G. (2021). Distance Learning in Higher Education during the COVID-19 Pandemic: Advantages and Disadvantages. International Journal of Curriculum and Instruction, 13(2), 1109–1118.
Didenko, I., Filatova, O., & Anisimova, L. (2021). Covid-19 Lockdown Challenges or New Era for Higher Education. Propósitos y Representaciones, 9. https://doi.org/10.20511/pyr2021.v9nSPE1.914
Engeseth, K., Prestgaard, E., Mariampillai, J., Grundvold, I., Liestol, K., Kjeldsen, S., Bodegard, J., Erikssen, J., Gjesdal, K., & Skretteberg, P. (2018). Physical fitness is a modifiable predictor of early cardiovascular death: A 35-year follow-up study of 2014 healthy middle-aged men. European Journal of Preventive Cardiology, 25, 204748731879345. https://doi.org/10.1177/2047487318793459
Mathew, V., & Chung, E. (2021). University Students' Perspectives on Open and Distance Learning (ODL) Implementation Amidst COVID-19. Asian Journal of University Education, 16, 152–160. https://doi.org/10.24191/ajue.v16i4.11964
Nenakhova, E. (2021). Distance learning practices on the Example of Second Language Learning during Coronavirus Epidemic in Russia. International Journal of Instruction, 14, 807–826. https://doi.org/10.29333/iji.2021.14347a
O'Malley, J. R. J., & McCraw, H. (1999). Students Perceptions of Distance Learning, Online Learning and the Traditional Classroom. Online Journal of Distance Learning Administration, 2.
Palatovska, O., Bondar, M., Syniavska, O., & Muntian, O. (2021). Virtual Mini-Lecture in Distance Learning Space. https://doi.org/10.31235/osf.io/xe8jc
Ploj-Virti?, M., Dolenc, K., & Andrej. (2021). Changes in Online Distance Learning Behaviour of University Students during the Coronavirus Disease 2019 Outbreak, and development of the Model of Forced Distance Online Learning Preferences . European Journal of Educational Research, 10(1), 393–411. https://doi.org/10.12973/eu-jer.10.1.393
Rosdiani, D. (2015). Kurikulum Pendidikan Penjas. Alfabeta.
Shachar, M., & Yoram, N. (2003). Differences Between Traditional and Distance Education Academic Performances: A Meta-Analytic Approach. International Review of Research in Open and Distance Learning, 4. https://doi.org/10.19173/irrodl.v4i2.153
Shah, D. (2015). Online education: Should we take it seriously? Climacteric : The Journal of the International Menopause Society, 19, 1–4. https://doi.org/10.3109/13697137.2015.1115314
Simonson, M., & Berg, G. A. (2016). Distance Learning (Encycloped).
Sugiyanto, & Sudjarwo. (1992). Materi Pokok Perkembangan dan Belajar Gerak. Depdikbud Dirjen Dikti Proyek Pembinaan Tenaga Kependidikan.
Sugiyono. (2017). Metode Penelitian Kebijakan, Pendekatan Kuantitatif, Kualitatif, Kombinasi, R&D dan Penelitian Evaluasi. Alfabeta.
Suherman, A. (2014). Implementasi Kurikulum Baru Tahun 2013 Mata Pelajaran Pendidikan Jasmani (Studi Deskriptif Kualitatif pada SDN Cilengkrang). Mimbar Sekolah Dasar, 1. https://doi.org/10.17509/mimbar-sd.v1i1.866
Tiberi, M., & Piepoli, M. F. (2019). Regular physical activity only associated with low sedentary time increases survival in post myocardial infarction patient. European Journal of Preventive Cardiology, 26(1), 94–96. https://doi.org/10.1177/2047487318811180
Toquero, C. M. (2020). Challenges and Opportunities for Higher Education amid the COVID-19 Pandemic: The Philippine Context. Pedagogical Research, 5(4), em0063. https://doi.org/10.29333/pr/7947
Viktoria, V., & Aida, M. (2020). Comparative Analysis on the Impact of Distance Learning Between Russian and Japanese University Students, During the Pandemic of COVID-19. Education Quarterly Reviews, 3(4). https://doi.org/10.31014/aior.1993.03.04.151
Wu, Z., & McGoogan, J. (2020). Characteristics of and Important Lessons From the Coronavirus Disease 2019 (COVID-19) Outbreak in China: Summary of a Report of 72 314 Cases From the Chinese Center for Disease Control and Prevention. JAMA. https://doi.org/10.1001/jama.2020.2648
Yusuf Effendi, Olivia Dwi Cahyani, & Adi S. (2022). MOTIVASI BELAJAR SISWA PEMBELAJARAN PENDIDIKAN JASMANI. Citius : Jurnal Pendidikan Jasmani, Olahraga, Dan Kesehatan, 1(2 SE-Articles), 26–30. https://journal.unugiri.ac.id/index.php/citius/article/view/272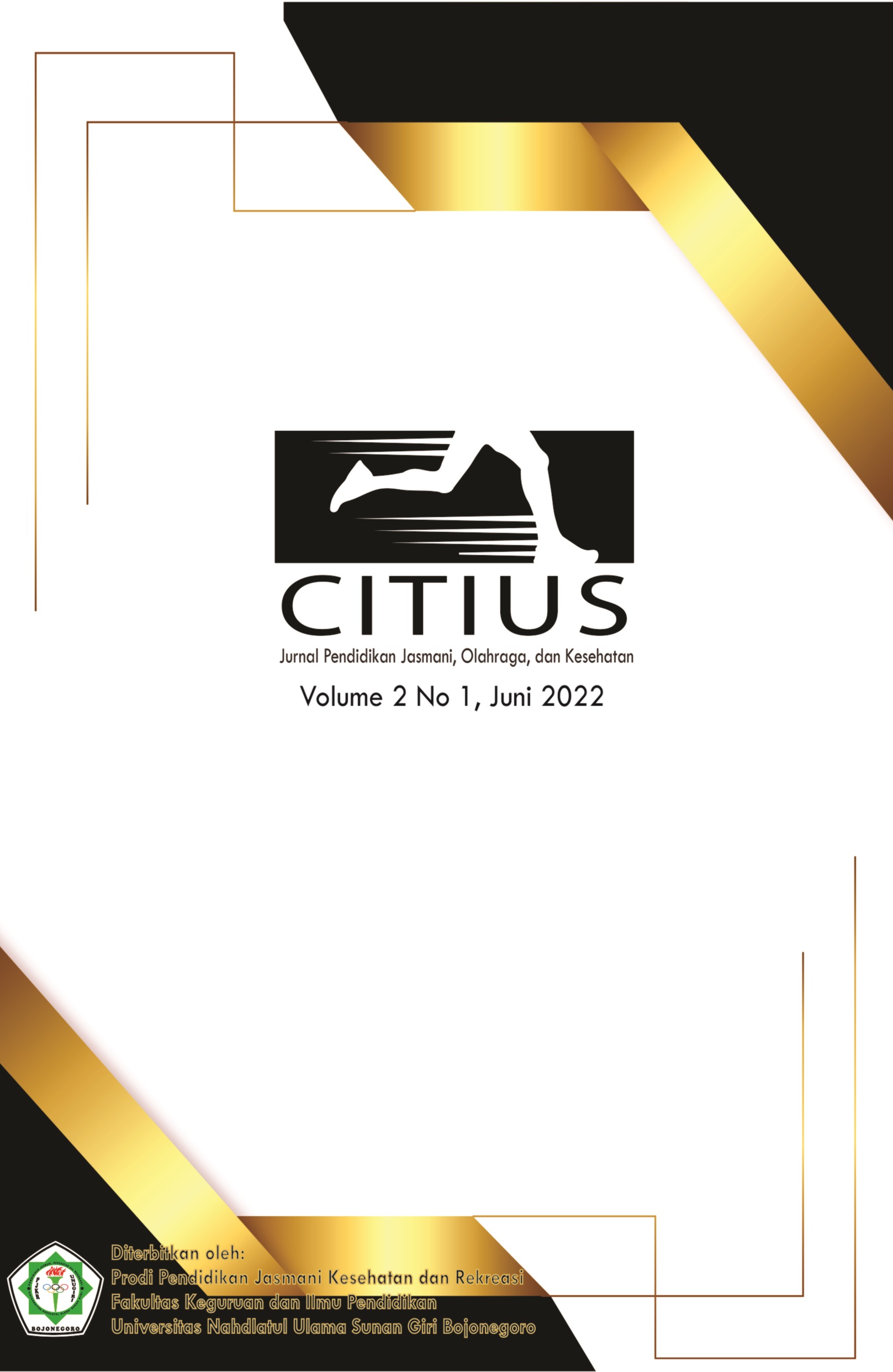 Downloads
How to Cite
Muhammad Eka Asti Suseno, Olivia Dwi Cahyani, & Mohamad Da'i. (2022). Media Pembelajaran Pendidikan Jasmani Pada Masa Pandemi Covid-19. Citius : Jurnal Pendidikan Jasmani, Olahraga, Dan Kesehatan, 2(1), 70–76. Retrieved from https://journal.unugiri.ac.id/index.php/citius/article/view/453