KEMAMPUAN PEMECAHAN MASALAH MATEMATIS MAHASISWA PENDIDIKAN MATEMATIKA UNIVERSITAS NAHDLATUL ULAMA SUNAN GIRI BOJONEGORO
Keywords:
Pemecahan Masalah Matematika, Matehematical Problem Solving
Abstract
This study aims to describe the mathematical problem solving ability of students at the University of Nahdlatul Ulama Sunan Giri Bojonegoro. This study is a qualitative study with research subjects of the Nahdlatul Ulama University Mathematics Education Study Program Sunan Giri Bojonegoro odd semester 2019 - 2020, namely semester 1 students of class 2019. Determination of research subjects using purposive sampling. Data collection techniques using written tests and interviews. Data analysis techniques used include data collection, data reduction, data presentation and verification. The validity of the data used in this study uses time triangulation that compares written data and interviews. The results showed that students 'mathematical problem solving abilities were still low, it was seen from the percentage of students' problem solving abilities where students who were unable to solve problems still occupied the highest presentations and students who were able to solve problems very well occupied the lowest percentage.


Penelitian ini bertujuan untuk mendeskripsikan kemampuan pemecahan masalah matematis mahasiswa Universitas Nahdlatul Ulama Sunan Giri Bojonegoro. Penelitian ini merupakan penelitian kualitatif dengan subjek penelitian mahasiswa Program Studi Pendidikan Matematika Univesitas Nahdlatul Ulama Sunan Giri Bojonegoro semester ganjil tahun akademik 2019 – 2020, yaitu mahasiswa semester 1 angkatan 2019. Penentuan subjek penelitian menggunakan purposive sampling. Teknik pengumpulan data menggunakan tes tertulis dan wawancara. Teknik analisis data yang digunakan meliputi pengumpulan data, reduksi data, penyajian data dan verifikasi. Validitas data yang digunakan dalam penelitian ini menggunakan triangulasi waktu yang membandingkan antara data tertulis dan wawancara. Hasil penelitian menunjukkan bahwa kemampuan pemecahan masalah matematis mahasiswa masih rendah, hal tersebut terlihat dari presentase kemampuan pemecahan masalah mahasiswa dimana mahasiswa yang tidak mampu memecahkan masalah masih menduduki presentasi tertinggi dan mahasiswa yang mampu memecahkan masalah dengna sangat baik menduduki presentase paling rendah.
References
[1] Hamzah, Upu. 2003. Problem Posting dan Problem Solving dalam Pembelajaran Matematika. Jakarta: Pustaka Ramadhan.
[2] Kennedy, L. M., Tipps, S., dan Johnson, A. 2008. Guilding Learning of Mathematics. Belmont: Thomson Wadsworth.
[3] Suharman . 2005. Psikologi Kognitif. Surabaya: Srikandi
[4] Sumuslistiana.2011. Profil Metakognisi Siswa Kelas VII SMP Mardi Sunu Surabaya Dalam Pemecahan Masalah Matematika Ditinjau Dari Perbedaan Kemampuan Matematika. Surabaya: Tesis UNESA.
[5] Syah, M. 2008. Psikologi Pendidikan dengan Pendekatan Baru. Bandung: PT Remaja Rosdakarya.
[6] Pehkonen, E. 1997. The State-of-Art in Mathematical Creativity. Zentralbalt fur Didaktic der Mathematic (ZDM) – The International Journal on Matematics Education, 29(3) : 63-67. ISSN: 1615-69X.
[7] Fadhila, S. & Jamilah. 2014. Pengembangan Bahan Ajar Struktur Aljabar untuk Meningkatkan Kemampuan Pembuktian Matematis Mahasiswa. Jurnal Ilmiah Pendidikan. Cakrawala Pendidikan. Februari 201, Th XXXV No.1.
[8] Polya, G. 1957. How to Solve It, A New Aspect Of Mathematical Method. New Jersey: Princeton University Press.
[9] Moleong, Lexy. 2000. Metodologi Penelitian Kualitatif. Bandung: Rosdakarya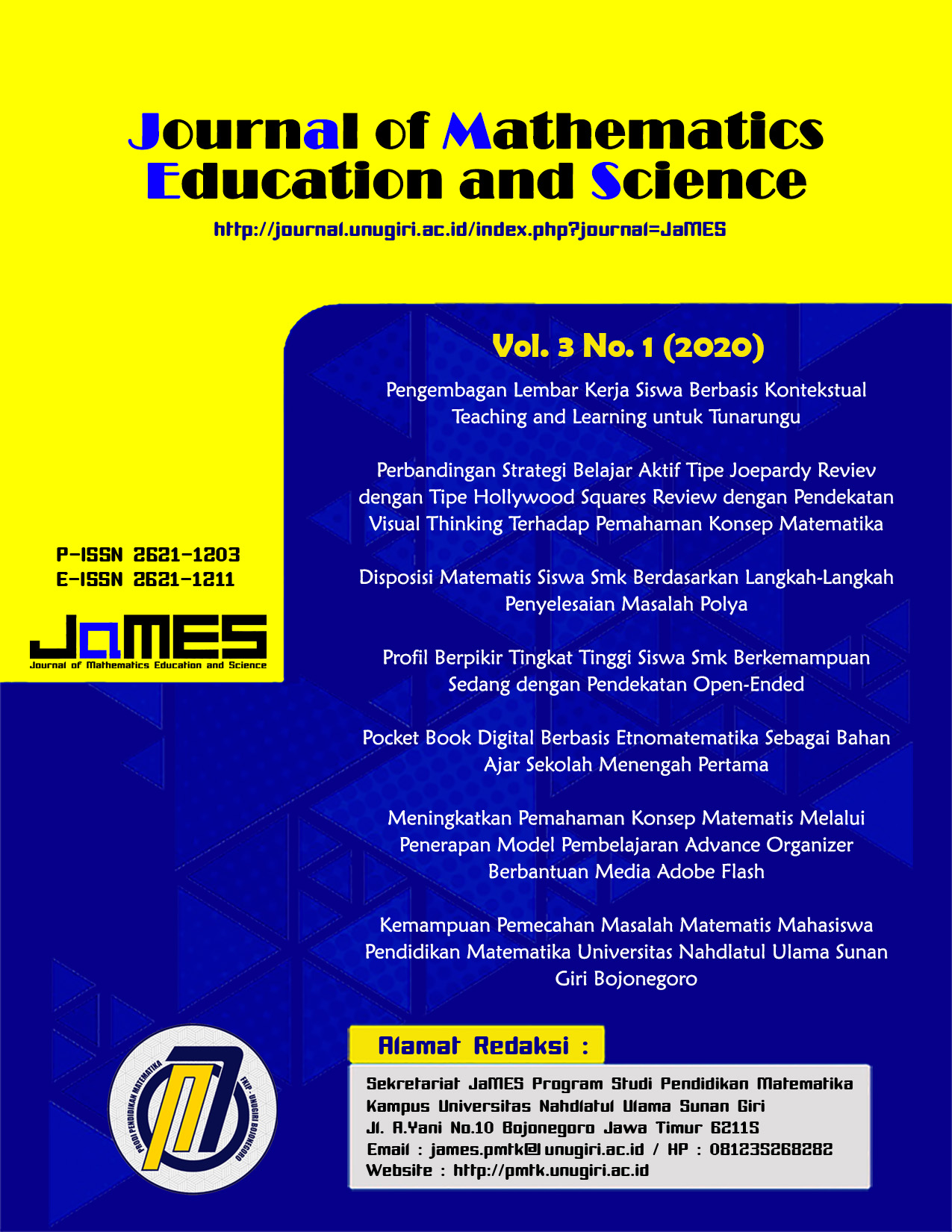 Downloads
How to Cite
[1]
N. Ilmiyah and A. Fitri, "KEMAMPUAN PEMECAHAN MASALAH MATEMATIS MAHASISWA PENDIDIKAN MATEMATIKA UNIVERSITAS NAHDLATUL ULAMA SUNAN GIRI BOJONEGORO", JaMES, vol. 3, no. 1, pp. 45–49, Apr. 2020.
License
Authors who publish with this journal agree to the following terms:
Authors retain copyright and grant the journal right of first publication with the work simultaneously licensed under a Creative Commons Attribution License that allows others to share the work with an acknowledgment of the work's authorship and initial publication in this journal.
Authors are able to enter into separate, additional contractual arrangements for the non-exclusive distribution of the journal's published version of the work (e.g., post it to an institutional repository or publish it in a book), with an acknowledgment of its initial publication in this journal.
Authors are permitted and encouraged to post their work online (e.g., in institutional repositories or on their website) prior to and during the submission process, as it can lead to productive exchanges, as well as earlier and greater citation of published work